How much should a Hot Tub cost?
The simple answer to that question is, it depends on the hot tub! If you're completely new to hot tubs you may be considering an inflatable spa for around £500. With a small initial outlay these hot tubs are a great way to see if you and your family are suited to a hot tub lifestyle. Upgrading from this price point you may be considering a rota-moulded hot tub that typically start from around £3,500 and, at the other end of the spectrum, are the very best portable hot tubs commercially available that can exceed £15,000. The reason for the differences in prices is down to size, features, manufacturing materials, design, the performance that the hot tub delivers and the type of manufacturer's warranty offered.
Perhaps a more important consideration is what you actually value in a hot tub. When you're spending time relaxing in your hot tub do you want to be worrying about how expensive it is to run or how well insulated that cabinet really is for the money you paid? Do the quality of the hydrotherapy jets matter to you and that troublesome lower back pain you've been suffering with? Or maybe including multicoloured lighting and a waterfall in the price will really make a difference to your planned entertainment needs? Well, to help you make the very best decision when considering a new hot tub here's our guide to the key features you'll find on a hot tub and how they can affect the price.
How size affects your hot tub price
Generally speaking the larger the hot tub you are considering, the higher the price is likely to be. This comes down to the fact that more materials are going to be needed to build a larger spa along with a need for more jets, larger, more powerful pumps and even filters with increased filtration capacity. All of these factors determine cost and don't forget, with bigger footprints, larger spas require more storage space during transportation, again adding to their overall price. Before buying a new hot tub carefully consider how it will be used and by who, you may be a couple without children or in retirement and are looking for some personal therapeutic use, in that case our Caldera Spa Aventine, Celio and Kauai could be the perfect fit for you. Alternatively, you could have a large family or may be a bit of a sociable butterfly entertaining a wide circle of friends. In that case our Caldera Spas Vanto, Salina or Cantabria could be the perfect choice for you with seating for 7-8 people you really are spoilt for space and comfort!
Does adding features add cost?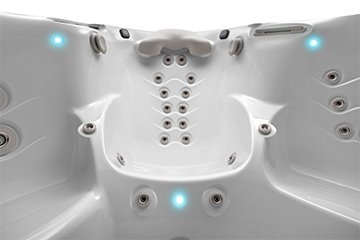 Hot tubs have evolved quite considerably over the last decade and, it's safe to say, so have our expectations! We expect a lot more from our commodities these days, smart phones now deliver our favourite films and shows on the go, we can transfer money via our tablet devices and browse the internet on our TVs and hot tubs are no exception. We all expect an incredible spa experience and most hot tubs offer a certain level of this. If you are looking to spend more money on a hot tub then you can expect more advanced, diverse hydrotherapy jets, more powerful and silent running pumps together with more intuitive control from your spas display panels and more sophisticated water care systems that help you reduce the need for hot tub chemicals. State of the art music systems, bass hungry sub woofers, multi colour change lighting and waterfalls will also add to the overall experience when using your spa, together with that overall cost.
So before you consider a purchase decide what will matter most to your spa experience. If you're looking for a peaceful retreat from a hectic working life then the quality and variety of powerful hydrotherapy jets could be the most important consideration for you. If so, make sure you discover the Atlas Neck Massage on our Utopia series of Caldera Spas and in particular the incredible UltraMassage lounge seat on the Cantabria featuring the customisable UltraMasseuse System, the absolute pinnacle of hydrotherapy massage relief! Alternatively you may be looking to use your hot tub as an entertainment piece, so perhaps a sound system incorporating individual seat speakers and easy to use, intuitive bluetooth technology is going to be your first priority. We're all different and will use a hot tub in our own unique ways but thankfully, with so much product diversity and unique features, our Caldera Spas offer something for everyone.
Is hot tub design really a consideration for me?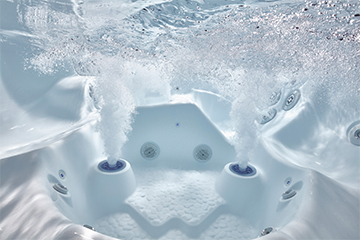 This element is often overlooked and least considered by customers when buying a hot tub. Good design will often go un-noticed because you'll find using a well designed, well considered hot tub effortless. Badly designed lounger seats and poorly positioned jets can cause you to float out of position when using your hot tub and having to constantly adjust yourself can create unnecessary body tension, somewhat counter productive to a hot tub delivering relaxation and stress relief! Make sure you look at the ergonomic seat design and wall structure of any potential hot tub as well, curves are more comfortable than straight sides and great design always maximises the occupant space when in use.
Other little features that make a big difference are the positions of the control panels (within arms reach is ideal) and the size of the footwell space. Regardless of how many bums on seats a manufacturer may quote on it's glossy literature take a close look at the all important footwell space. Hot tub's designed with a generous amount of legroom and footwell space will give you, your family and friends a much more comfortable experience when using the hot tub.
A good hot tub will offer much more than just a centre piece for your garden, it should become part of your lifestyle and fit every aspect of your daily routine perfectly. Pay close attention to the inviting colours, cabinet textures, seat and lounger shapes and interior and exterior lighting of our Caldera Spas, you'll probably agree that they offer that little bit more.
What you should consider with performance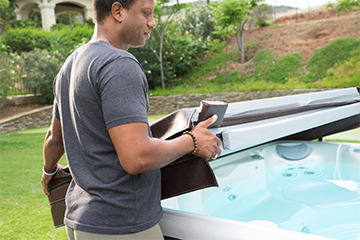 Probably the most difficult aspect of a hot tub purchase is considering the performance that it's going to deliver on a day to day basis. Although many hot tubs may look similar there are many differences between low and high end spas. Although cheap hot tubs may have many jets, there could be cost savings being made underneath the cabinet with underpowered pumps providing a less intense, less satisfying hydrotherapy experience. The best hot tubs on the market are fitted with powerful, yet quiet, circulation pumps that are able to efficiently circulate the water through the hot tub filter and heater with ease.
Superior performance can also be measured in the efficiency of the cabinet insulation to help keep heat in the spa water. All Caldera Spas feature a revolutionary FibreCor technology that is four times more efficient than traditional foam insulation used on cheaper hot tubs. Perhaps the last consideration on any one's mind when looking at a new hot tub is the base pan design. Base pan what? This is the part of the hot tub you may only see on the day of installation (when it's delivered on it's side) but it is always in contact with the ground, another area for heat loss. Our Utopia range features a new ABS base pan that has a corrugated design to help minimise contact with the ground and protect the components, improve energy efficiency and add support.
So ask yourself, if Caldera Spas go to so much trouble to make the parts you don't see as well designed and efficient as possible in terms of performance, how much time do they invest in the components you do see on their hot tubs? And, perhaps more importantly, are cheaper hot tubs from other manufacturers going to deliver you the same performance.
So what next?
This guide should help you make more considered, informed buying choices when you're buying a new hot tub and should give you a better idea of what is actually being offered at the price point you consider.
At All Swim we always recommend looking at a prospective purchase rather than just 'buying online' as you have the opportunity to closely examine your new hot tub and really get a feel for the quality of the build. We also offer wet tests at our hot tub showroom here in Cardiff so if you really want to discover the Caldera Spas difference we would be more than happy to see you!