Why Should You Buy Hot Tubs From a BISHTA Member?
Considering the vast selection of Hot Tubs for sale on the market today it can be tough identifying the best option. You need only type 'hot tubs for sale' into a search engine and you're inundated with a wealth of choice, from a huge number of suppliers – so how do you decipher the good from the too-good-to-be-true?
Who Are BISHTA?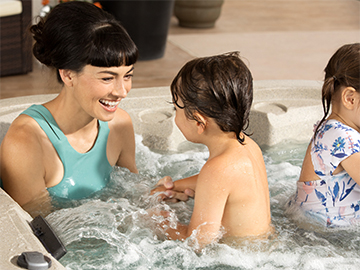 BISHTA stands for the British and Irish Spa and Hot Tub Association which was established in 2001 to ensure hot tub and spa retailers were fully trained and competent in water hygiene management and ensure their awareness of why maintaining these standards is of key importance. BISHTA consists of a world-renowned team of experts available to provide support and assistance to its registered members, ensuring promotion of high safety standards and value amongst hot tub retailers. This enables BISHTA registered members to competently advise prospective and existing spa owners on all aspects of water hygiene management and all manner of issues or questions that may arise.
Why Is Water Hygiene Important?
Whilst regular use of a hot tub will provide you with many health and wellbeing benefits it is important to maintain clean, clear and hygienically safe water in your spa to prevent unwanted, potentially harmful micro-organisms from developing.
In the case of water hygiene management, prevention is easier than the cure. The good news is that correct and safe water chemistry is easily achieved through using a combination of products including sanitisers (disinfectants), oxidisers, minerals and pH balancers, in accordance with BISHTA water treatment standards.
The Benefits of Buying From a BISHTA Member
The British and Irish Hot Tub and Spa Industry is at present not regulated by the Government or Law. This unfortunately means that neither sales of or maintenance of hot tubs is subject to a code of conduct, allowing anybody to retail or carry out maintenance on a hot tub.
Potential issues with the lack of regulation can include factors such as sub-standard quality hot tubs and parts being sold and improper advice being given regarding maintenance and water treatment which at worst can result in customers stuck with an unusable spa or water quality that poses a hazard to health.
Sounds a little doom and gloom, right? But fear not, you can rest assured when dealing with a BISHTA registered company that they have committed to honour the BISHTA Code of Ethical Conduct which includes:
To trade ethically with both the public and within the industry at all times
To comply with BISHTA's standards for self-contained hot tubs and spas and abide by its Rules and Regulations
To comply at all times with the Trades Descriptions Act, 1968, Supply of Goods (Implied Terms) Act, 1973, the Sale of Goods Act, 1979
To ensure products and services advertised and marketed are fully understood by the prospective client and to comply with the requirements of the Advertising Standards Authority
To offer a clear and reasonable warranty of products and services and to perform on such warranties where justifiable claims are made within a suitable time period
All Swim – BISHTA Award Winning Retailers

With 2017 being All Swim's 45th year of operation, we have worked tirelessly to build a strong reputation for reliability, integrity and exceeding our customer's expectations. We are therefore proud to be BISHTA members and have won numerous BISHTA awards over the years including Retailer of Excellence and Best Hot Tub Showroom.
With that in mind, when dealing with prospective and existing hot tub owners, we guarantee our advice and assistance will always be provided with the customer's wellbeing and satisfaction at heart. We believe there is simply no point in taking shortcuts to increase sales figures, particularly in an age where customer reviews and referrals are worth their weight in gold!
So if you are in the process of researching hot tubs, be sure to look for the BISHTA logo, so you can rest assured you are in safe (and knowledgeable) hands.