Discover the Caldera difference for yourself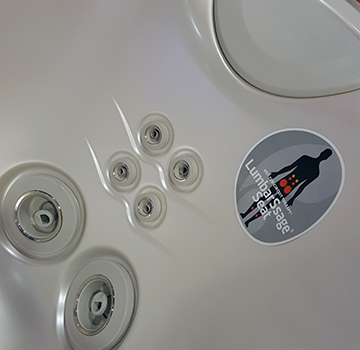 With such a bewildering array of hot tubs on the market place it can be a little daunting as a first time buyer (or even a second or third time buyer looking to upgrade) to make a choice that's going to be right for you, after all, hot tubs are a luxury purchase for most of us and it's important to know you're choosing one that's going to offer something unique and give you the best possible experience for your money.
That's where we think our Caldera Spas, and in particular our Utopia range, sits head and (soothed) shoulders above the competition. This incredible range of hot tubs includes an industry redefining approach to total body restoration through hot tub circuit therapy.
So what is Hot tub circuit therapy?
Well, hot tub circuit therapy is a bit like having a personal trainer in the gym. A personal trainer helps you create a plan that's designed to move you from station to station with different exercises to give your body a balanced, full body workout helping to target all the major muscle groups.
Just think of your Caldera Spa as a personal hot tub therapist with each seat and position individually designed to provide a deep, relaxing massage for different muscle groups. Instead of sitting in one position like you would in most hot tubs our Caldera Spas encourage you to use the whole hot tub for relaxation. As you move around the spa the invigorating jet design and layout focuses on individual muscle groups, from neck and shoulders through to the large muscles of your back, lower back and even down to your hamstrings, calves and feet - often overlooked regions of the body when it comes to other hot tubs but if you spend most of your working day stood up you'll really appreciate this aspect of the hot tub circuit therapy experience!
What's different about the hydrotherapy jets on Caldera Spas
The design and layout of the jets on any hot tub is the crucial element to your experience as a user and you won't find a greater attention to detail or such a meticulous focus on the quality of the hydrotherapy experience than on our Caldera hot tubs. Each area of the hot tub has been specifically designed to target a particular muscle group and here are the massage clusters that will really help ease those aching muscles and gently soothe those tensions away.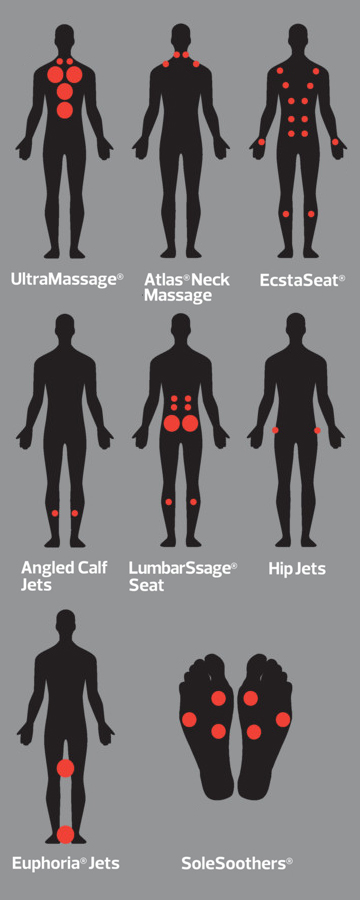 UltraMassage
Featured on either the seat or lounger, this targets your neck, shoulders and middle back.
Atlas Neck Massage
A contoured pillow that cradles your head while specialised, above the water line jets focus on your neck and shoulders.
Ecstaseat
Multiple jets focussing on the large muscles in your back. Importantly, some models feature jets that target wrists and calves.
LumbarSsage
A unique jet configuration that helps relieve tension and pain in your back's lumbar region.
Euphoria Jets
These jets provide a deep, penetrating massage to your thighs, knees and calves and feet and you'll enjoy two of these incredible feature jets in most Utopia models.
Hip Jets
These jets work on this often overlooked stress point and helps re-invigorate movement in this area of your body.
Angled Calf Jets
Working on the often overlooked muscles in your lower leg, perfect for those who spend most of the working day stood up.
Sole Soothers
Jets that stimulate and revive the muscles in your feet that help relieve the tension in the area of your body that bears your full weight all day.
The proof really is in the testing
Hopefully this brief glimpse into the most important features of our Caldera Spas has given you a valuable insight into the attention to design detail that these hot tubs offer, they really are a cut above the rest. But don't take our work for it, we have a complete range of Caldera hot tubs, including the fabulous Utopia series, on display at our award winning showroom here in Cardiff. Why not arrange a visit? Our trained, knowledgeable sales staff are always on hand to help you explore this unique range of hot tubs and understand the benefits of hydrotherapy massage and we also have changing facilities on site so you are always more than welcome to book a wet test to try them for yourself. Be warned though, every customer that has tried these incredible hot tubs has made a purchase. That is surely proof enough of the Caldera difference!