Dosing Systems
Make the task of dosing your swimming pool chemicals easier with an Automatic Chlorine Dosing System. We stock a large range of semi-automatic and automatic dosing systems including:
Perform-Max Feeders - a semi-automatic in-line feeder for use with Chlorine Tablets or Bromine Tablets
Autopilot Nano - a salt chlorine generator that generates chlorine from granular salt resulting in silky soft water
Chlor Expert - for accurate liquid chlorine dosing in pools up to 26,000 gallons. Use in conjunction with the pH Expert for a fully automated liquid feed system
UV Systems - the Blue Lagoon and Certikin ranges of UV water treatment systems work by feeding the pool water through the system and disinfecting it via exposure to a UV lamp
An automatic dosing system will help you to easily maintain safe, clear water with minimal effort.
Unsure which type of dosing system is best for your pool? Contact us on 02920 705059 for advice or email.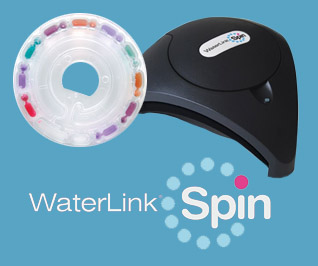 FREE Water Testing
All Swim can test your pool and hot tub water free of charge!
Just bring a half litre sample to our Cardiff showroom. We'll use a photometer to analyse the current water balance and then give you a free report detailing any recommended remedial action.
The report details: Bromine/Chlorine, pH, Total Alkalinity, Calcium Hardness, Cyanuric Acid, Iron, Phosphate and Copper.