Roldeck Automatic Slatted Covers
Home

/

Roldeck Automatic Slatted Covers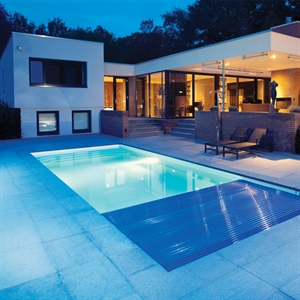 For the ultimate in practicality and ease of use, the Starline Roldeck Automatic Slatted Cover is the winning choice. The Roldeck consists of a system of floating high-quality, PVC or impact resistant polycarbonate slats rolled around a stainless steel roller, opening and closing automatically at the touch of a button.
The drive mechanism automatically stops once the cover is fully opened or closed, but it can also be stopped at any point in between. Using advanced technology allows the Roldeck cover to be installed below the water surface and virtually hidden from view and the latest manufacturing techniques ensure a product of the highest specification and quality.
Roldeck automatic slatted covers don't just look great - the sustainable design can save up to 70% on energy costs while keeping the pool water clean and debris free at the same time. Available in a choice of slat options; blue, colourless transparent or solar, why not contact us for a quote today or a FREE no obligation site visit to discuss the most suitable options for your project.