Barrel Saunas
Pinnacle 72" Standard Barrel Sauna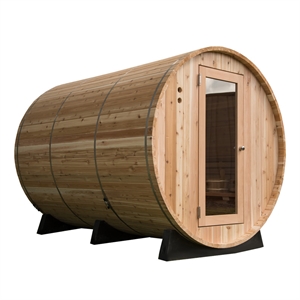 Princeton 72" Standard Barrel Sauna
Weston 72" Canopy Barrel Sauna
Did you know that regularly spending time in a sauna can have a positive effect on many areas of your health and wellbeing? Some of the benefits include:
Improved circulation - the hot environment raises your heart rate which in turn expands blood vessels, resulting in lowered blood pressure
Enhanced immune system - your core body temperature increases due to the heat, tricking it into thinking you have a fever, boosting production of white blood cells as a result
Relief from respiratory conditions such as asthma and bronchitis - simply throw some water on the heated stones and deeply breathe in the steam
Pain relief for aching joints and muscles - immersion in the pocket of hot air can provide welcome relief from such conditions
Can aid weight management - sitting in the heat raises your heart rate and your metabolism, prompting your body to burn more calories
Stress relief
Healthy skin - time spent in a sauna helps flush out toxins and bacteria, helping improve skin tone, elasticity and appearance
Our new range of Almost Heaven Barrel Saunas combine the very best in quality materials and equipment with handcrafted workmanship, supplied as an easy to build barrel sauna diy kit.
The barrel design of Almost Heaven Outdoor Saunas provide exceptional air circulation, taking them less time to heat than square sauna designs. Almost Heaven Saunas have been manufacturing build your own barrel sauna kits for over 40 years in West Virginia, USA. Each sauna is built from the finest softwoods, handpicked by their highly skilled lumber experts. Enhance not just your outdoor space with a garden sauna, your wellbeing is sure to benefit too!
Features
LED lighting with interior switch. Includes thermometer, hygrometer, sauna stones, bucket and ladle
No maintenance, naturally water and insect resistant and can be placed on any flat surface
Suitable for indoor or outdoor applications
Electrical requirements for 6kW heaters (30 Amp) and 8kW heaters (40 Amp). Lighting requirement (15 Amp)
Each sauna includes a lifetime warranty and 5 year warranty on the heater.