Lo-Chlor
Lo-Chlor Chemicals Australia was founded in 1979 and is now globally recognised as the market leader in specialised pool and spa water treatment.
Lo-Chlor Chemicals - Quality & Confidence in every drop.
Algaecides
Lo-Chlor Chemicals leads the global pool market for the destruction and control of algae - the extensive and proven range covers:
Long life up to 6 month prevention
Weekly dosed
Spring Open Up
Winter Closure
Speciality problem solvers for all algal blooms including black algae
For best results and perfect pool conditions always use our algaecides in combination with a Lo-Chlor Phosphate Remover. Use algaecides safely. Always read the product information before use.
Maintenance
Lo-Chlor Chemicals maintenance range provides solutions to a whole host of everyday maintenance requirements of your pool, the range includes -
Leak Sealer
Salt Cell Cleaner
Salt Cell Protector
Filter Cleaner
Pipework maintenance lubricant
Calcium scale inhibitor and remover
Phosphate Removers
Lo-Chlor Chemicals have proved to be the global leaders in phosphate removal and prevention. Whether you are looking at a preventative or curative solution market leading brands such as Starver® will provide the answer -
Patented formulation
Effective over a wide pH range
Non-toxic and biodegradable
Fast acting
Remove up to 6 parts per million (6ppm) in 50,000 litres
Compatible with all recognised pool treatments and additives
Flocculants and Clarifiers
Lo-Chlor Chemicals offer the perfect solutions for solving all water clarity issues.
Unique fast acting polymer 30 day treatment
Natural multifunctional clarifier
Fast acting heavy duty flocculant that works in 6 hours
Easy to use 30 days treatment gel cubes
Stain Removal & Prevention
Lo-Chlor Chemicals are the experts in stain treatment and prevention and the products cover all pool types including concrete, liner and fibreglass:
Remove unwanted metal stains from iron, copper, manganese, tannin and cobalt
Remove rust stains from the pool walls and floors
Aids the removal of unsightly osmosis stain in fibreglass pools
Highly effective metal sequestrants for trapping released metal ions to prevent re-depositing on pool surfaces
The Spa Range
Lo-Chlor Chemicals are the leaders in specialist spa treatment chemicals that work on all aspects of your day to day spa and hot tub needs:
Concentrated pipework cleaner
Instant Cartridge Filter Cleaner
Ultraspa water clarifier
No More Foam
Hot Tub & Spa Acrylic shell polish
Vinyl Cover Restorer and Protector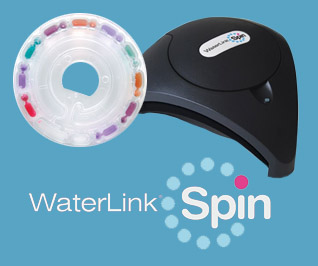 FREE Water Testing
All Swim can test your pool and hot tub water free of charge!
Just bring a half litre sample to our Cardiff showroom. We'll use a photometer to analyse the current water balance and then give you a free report detailing any recommended remedial action.
The report details: Bromine/Chlorine, pH, Total Alkalinity, Calcium Hardness, Cyanuric Acid, Iron, Phosphate and Copper.