Pool & Hot Tub Chemicals
All Swim stock a complete range of both quality swimming pool and hot tub chemicals, in addition to our own brand we also supply other major brands including Aquasparkle, Blue Horizons, Gold Horizons, HTH and Lo-Chlor.
All chemicals are held in stock and available for next working day delivery (UK mainland).
Chlorine & Bromine – quick dissolving granules and tablets plus liquid chlorine for a range of pools and hot tubs.
Algaecides – preventing unsightly algae with both long life and weekly dosed algaecides.
Dosing Systems – semi-automatic, constant rate and proportional rate dosing.
Chlorine Free Chemicals – for both swimming pools and hot tubs.
Starter Kits – a complete kit to help with treating water for the first time or at the start of a new season.
Water Balancing Chemicals – for total water management.
If you are unsure of any element of water treatment or dosing our experienced team are always on hand to offer help and advice on all elements of regular water treatment or problem solving - for further help and advice please do not hesitate to contact us on either 029 20 705059 or alternatively complete our enquiry form.
Swimming Pool Chemicals and Water Management
We have produced a complete guide to swimming pool and spa water management with the aim of explaining step by step, the principles of maintaining safe high quality water with the minimum amount of expense and effort. The guide contains advice on general maintenance and swimming pool chemicals. You can view the complete guide to water management here. Note: The recommendations in this guide are for domestic swimming pools and hot tubs only.
Swimming Pool Chemical Safety
Read Instructions on each swimming pool chemical product thoroughly before use
Never mix different swimming pool chemicals
When pre-dissolving chemicals, always add chemicals to water and never vice versa
Always pre-dissolve chemicals in a clean plastic container
Always handle your swimming pool chemicals in a well-ventilated area, preferably outdoors
Never use unlabeled swimming pool chemicals
Store all swimming pool chemicals in a secure, dry and cool place
Keep chemicals away from children and animals
Avoid spillage
In the event of a spillage, clean up using clean receptacles and dispose of in the pool. Flush area thoroughly with large volume of fresh water
Before disposing of empty containers, rinse them thoroughly in the pool
Always wash hands after handling pool chemicals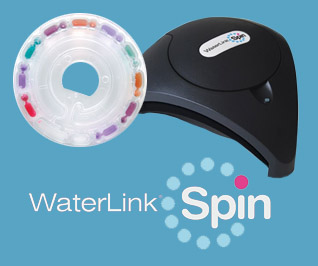 FREE Water Testing
All Swim can test your pool and hot tub water free of charge!
Just bring a half litre sample to our Cardiff showroom. We'll use a photometer to analyse the current water balance and then give you a free report detailing any recommended remedial action.
The report details: Bromine/Chlorine, pH, Total Alkalinity, Calcium Hardness, Cyanuric Acid, Iron, Phosphate and Copper.