Opening your outdoor pool for spring – A step by step guide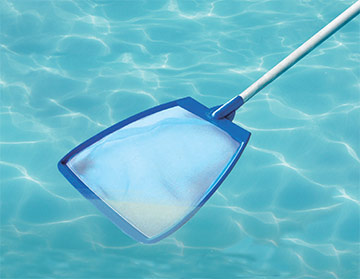 As we welcome the onset of Spring it is time for outdoor swimming pool owners to start getting their pools ready for the season.
If you used a long life algaecide, such as Winterclear or Kleen Pool when closing down your pool for the winter, you will hopefully now find the pool free from algae, which is one less thing to take care of. Here is our step by step guide to the process of opening up your outdoor chlorine pool:
Remove surface water and debris from the winter cover before removing it from the pool. You will then need to clean and dry it before putting it away for storage.
Using a leaf net, remove as much debris from the pool as possible and clean any tide marks at the water line using either our All Swim Tile and Liner Cleaner or All Swim Waterline Cleaner.
If you removed the pump over the winter, you will need to reconnect the circulation pump – making sure all electrical connections are free from dampness. If in any doubt, be sure to contact an electrician.
Open up any valves beneath the water line which may have been closed or plugged.
Check there are no obstructions to the drains, the outlets and the pump strainer basket.
If necessary, top up the water level so that it can be drawn in through the skimmer/skimmers.
Prime the pump, turn it on and check that the filter, skimmers and drains are all working. The water may be discoloured initially, which is common and no cause for alarm! If you find the water level is too high due to winter rainfall, you will need to pump it to waste.
Run the filter for several hours, vacuuming out any remaining debris. Backwash the filter and top up with fresh water.
Prepare your heat retention cover for use, cleaning off any patches of algae or mould.
Check the pH and if necessary adjust to within the 7.2 – 7.6 range. pH is increased by the use of PAK 2 and lowered by using Pool Acid, both of which can be found in the Water Balance Section on our website
Next you will need to give your pool a good dose of our Shock Chlorine Granules which is essential to kill off any algae and harmful organisms that may be present. Allow the water to circulate to ensure the shock chlorine is thoroughly distributed.
If there are any stubborn algae patches, using our Lo-Chlor Knock Out Algaecide will help remove them.
Adding an algaecide will help keep your pool free from unsightly algae during the season. Long-life algaecides will keep the pool algae-free for up to 6 months, or alternatively All Swim Algicide is a weekly treatment if you prefer regular dosing. Our full range of Algaecides and Clarifiers are perfect for these types of treatments.
And finally...time to pray for some sunshine, so you can enjoy your outdoor pool to the max this season!
If you need any advice regarding maintaining your swimming pool, feel free to contact us on 02920 705059, email us on sales@allswimltd.com or pop in to the showroom!