As energy prices continue to surge, so do the costs associated with running and maintaining a pool. Discerning pool owners are now, more than
ever, looking for the best ways to keep costs from spiralling.
Adding a solar cover to your pool is potentially the most simple, yet cost effective way to significantly cut pool running costs - by merely preventing evaporation, you can reduce heat loss from your pool by around 70%.
By controlling heat loss due to evaporation alone, you will be well on your way to saving big money on your running costs.
Benefits Of A Solar Pool Cover
Eliminates water evaporation by 98% - the leading cause of heat loss form a pool.
Provides FREE solar heating, as much as +7°C.
Further retaining heat by providing a layer of insulation.
Reduction in debris entering the pool - A reduction in filtration demand will result in less frequent backwashing, and also a reduction in chemical consumption.
Reduction in the breakdown of chlorine by sunlight.
Reduction in energy consumption due to a lower heating demand.
Save money on energy and chemical bills.
So you've decided to cover your pool, but with many choices how do you know which cover is right for you? Once you have decided to cover your pool you will reduce running costs, energy and chemical consumption and time maintaining your pool. Which cover you choose however, will determine the value for money you get from your cover.
Things to consider
The thickness of a cover is a good indicator of quality and durability – as a rule of thumb, a good cover should be no less than 400 micron.
If you are not using a reel system it may be best to opt for a cover no thicker than 500 microns, to ensure that the cover is of a manageable weight.
A cover's bubble size and shape has an impact on lifespan and durability – This is why All Swim only supply GeoBubble™ pool covers. They are on average 50% thicker at their thinnest point and have a patented bubble profile, designed to last 25% longer than a standard round bubbled material.
Performance - What do you need your cover to do? Reduce your heating cost? Prevent the pool from going green? Minimise heat losses? Selecting the right cover will maximise savings while helping you enjoy your pool.

What Savings Are Most Important To You?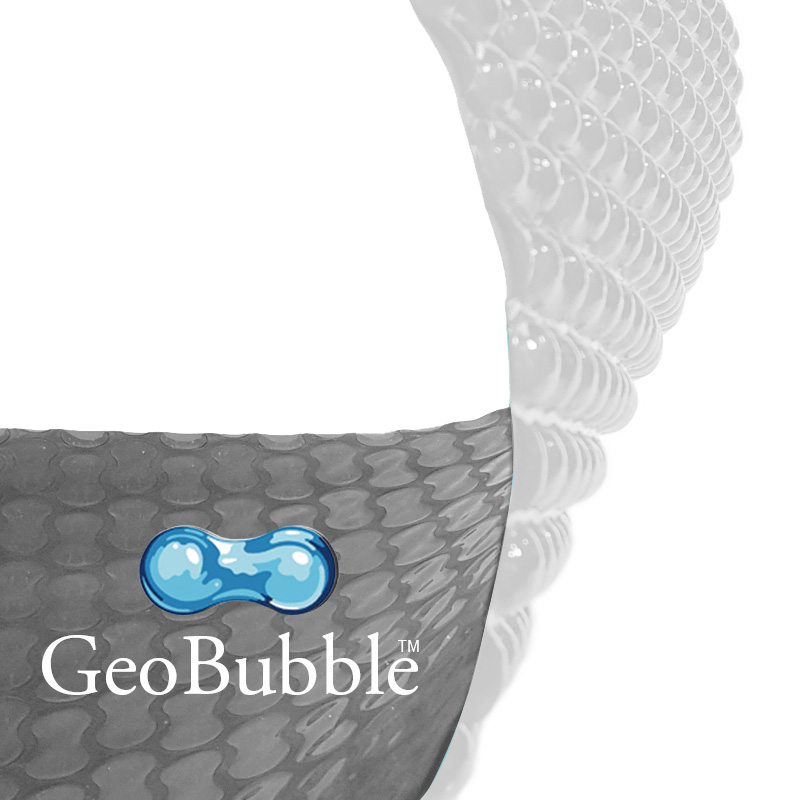 New 500 Micron Raeguard™ – HEAT RETENTION
RaeGuard™ is the latest addition to the high-performance GeoBubble™ Guard product range, designed specifically as a heat retention cover to minimise heat losses through its tailored reflective properties. Identifiable immediately from its silver top layer and white bubble.
Note: Whilst Raeguard maximises heat retention, it offers little in the way of solar gains. As such, All Swim would recommend the use of this cover on heated pools only.
Retain heat and maintain pool temperature.
Reduce heating cost by up to 57%.
Pay back the cost of a cover within 1 year.
Works on both indoor and outdoor pools.
6+ years expected lifespan.
Available with reinforcing weave.
No solar gains, maximum heat retention.
500 Micron Sol+ Guard™ – SOLAR GAIN
For those pools where maximising temperature using free heat from the sun is the number one priority. Sol+Guard™ has been optimised for solar gains, whilst also reducing heat loss through evaporation control and providing insulation.
Extend your swimming pool season – get swimming sooner and for longer by maximising pool temperature.
Maximum free heat from solar gains
Double the lifespan and also double the heating performance of a standard 400 micron GeoBubble™ cover.
Up to 70% reduction in pool heating costs.
6 + years expected lifespan.
6-8oC temperature increase possible, through solar gains.
500 Micron EnergyGuard™ – HYBRID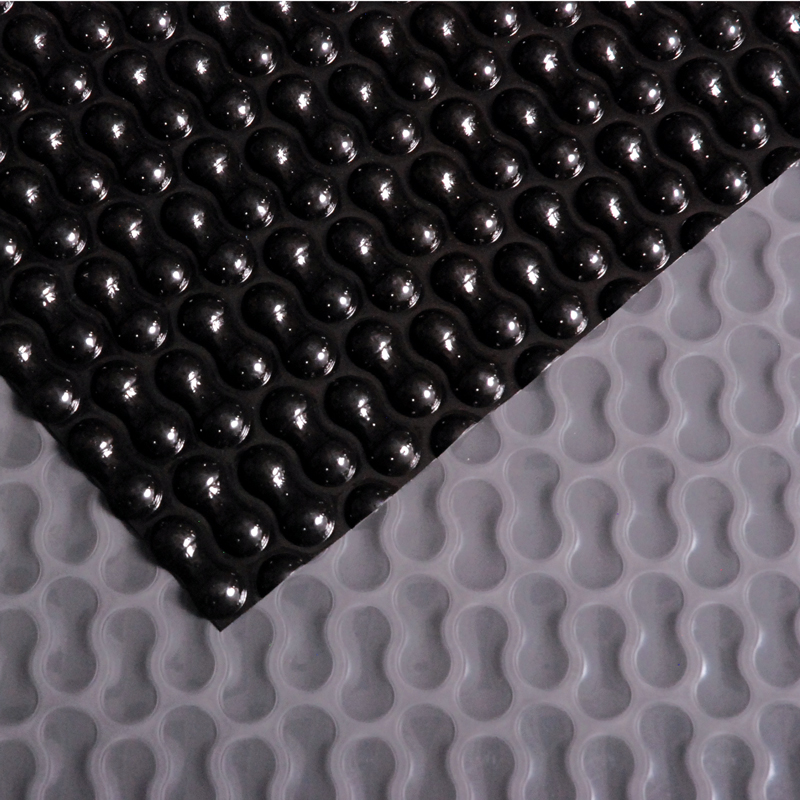 The hybrid EnergyGuard™ cover maximises solar gains whilst also inhibiting algae growth through its innovative and patented light filtering technology.
EnergyGuard™ offers the best balance between free solar heating and reducing the chemical consumption of a pool.
60% reduction in pool heating costs.
60% reduction in chemical treatment costs.
Inhibits algae growth for an easier to maintain pool.
Can be used on the pool all year round, makes for an excellent winter cover.
5-7oC temperature increase possible, through solar gains
For advice on which Swimming Pool Cover best suits your needs, or on reducing the running costs of your pool, give us a call on 02920 705059 or email sales@allswimltd.com.