Finding replacement hot tub filter cartridges can sometimes be a challenge, especially if you're unfamiliar with the make and model of the spa or need a filter for an older model. Don't worry though, we stock a vast range of popular filter cartridges at our hot tub showroom here in Cardiff, if we don't have your particular hot tub filter we can source a vast range of other makes and models from our trusted network of suppliers.
Does your filter have a manufacturers code?
Perfect! This is usually the easiest way to identify the make and model of filter cartridge you require. Look for a manufacturers code on one of the ends of the cartridge and this will help us source a replacement item for you relatively quickly.
I don't have a code, but I have my old filter cartridge.
If you can't find a manufacturer's code on your hot tub filter we can still source a replacement for you based on a few simple measurements of your old filter. Firstly measure the outside diameter (OD) of the hot tub filter cartridge and the inside diameter (ID) of the hole in the middle of the cartridge.
Next, measure the length from the outside of the cartridge (not including any raised steps, handles or threads).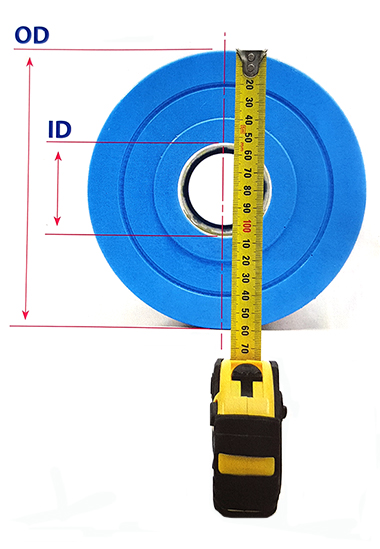 Lastly, if your hot tub filter cartridge doesn't have a hole at each end, just let us know what type of end caps it has. Other types of tops will either be a handle or closed (flat). For the bottom, your filter may have a slip fit collar, coarse thread (SAE) or fine thread (MPT) collar.

Ideally, to help us match your hot tub filter cartridge, a few photographs always helps us to identify the correct replacement for you. Or, if you are planning on visiting our hot tub showroom in Cardiff, bring your old filter with you and one of our trained sales staff will help identify the correct cartridge for you.
I don't have a code or an old filter cartridge. What now?
Without an old filter cartridge or part code the simplest way of sourcing a replacement is by providing us with the make, model and year of manufacturer of your hot tub.
Remember, we are able to source a huge range of hot tub filters and our website has a small selection of the cartridges we stock. If you need any help or advice please call one of our friendly sales staff to discuss your specific needs on 029 2070 5059.