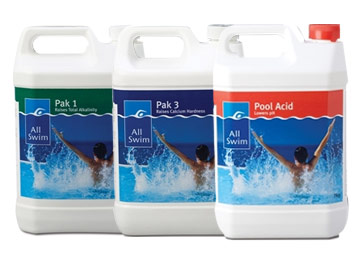 As a new swimming pool owner you probably feel there is so much to learn and familiarise yourself with – this is true, but if you start out on the right foot, pool maintenance and water treatment will become easy to maintain in the long term.
The biggest learning curve with pool ownership tends to be the water chemistry, so we have put together a brief guide we hope you find helpful.
Guide to the chemicals in a new pool
A simple system to help pool owners learn about proper water balance is the Blue Horizons 'BOAST' system. This system will help you remember the key points in achieving safe, clear and clean water:
B = Balance your pool water for bather comfort and maximum chemical efficiency. This includes adjusting the pH level up or down as required, raising Total Alkalinity and Calcium Hardness when necessary. All the products you need to adjust your swimming pool water balance can be found here.

O = Oxidise to establish a sanitiser level then weekly to destroy waste compounds. Chlorine is the most common sanitiser used in swimming pools, which kills bacteria and keeps the water safe and clean. Shock Chlorine is used to raise the sanitiser level quickly (and to kill algae off if present). TIP: if the pool is heated, Quick Dissolve Shock does not need to be pre-dissolved, so will save you time and energy!
A = Algae prevention, stop algae establishing itself in your pool water. Using a long-life algaecide such as Kleen Pool or Lo Chlor Pool Algaecide will help keep the pool free from algae for up to 6 months. Or use All Swim Algicide for weekly dosing. To view our complete range of swimming pool algicides, clarifiers and cleaners click here.

S = Sanitise, maintain a constant sanitiser level to prevent and kill bacteria. Stabilised chlorine (Cyanachlor) in the form of either granules to be pre-dissolved in water or tablets with a floating dispenser are used for regular dosing. To view our complete range of chlorine water treatment chemicals click here.

T = Test your water frequently, you really don't know what the levels are without testing! Test strips are extremely easy to use and provide an accurate reading of your water chemistry and there are also various test kits available to keep track of your water balance. To view our complete range of pool and hot tub water testing kits click here.

We also provide a FREE water sample testing service in our showroom, simply bring or send in a sample in a 500ml empty still mineral water bottle with your pool details and we'll use a photometer to analyse the current water balance and we will then give you a free report detailing any recommended remedial action required.
If you are unsure of any element of swimming pool chemicals or water treatment please do not hesitate to contact us for further help and advice by calling 029 2070 5059.