Our guide to buying hot tubs
There are a bewildering array of hot tubs and spas on the UK market and it can be confusing knowing which spa is going to be the right choice for you and your family. Thankfully All Swim have done a lot of the hard work for you. We've been in the swimming pool and hot tub industry for over 45 years and our hot tub expertise will help you make the right buying choice.
Choosing the right hot tub for you
Should I research hot tubs online?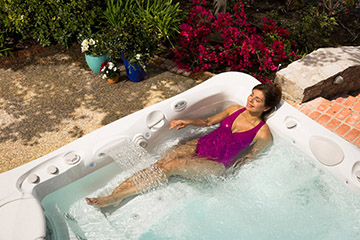 The hot tub market in the UK is growing every year. According to Nick Clamp, owner of What Spa? magazine, feedback from retailers and manufacturers has the current UK ownership at nearly 300,000 households. Joining this growing market is certainly an exciting prospect, but do some research online and find out why people are choosing a hot tub lifestyle. What exactly is it going to offer you and your family? Decide what are the important factors in wanting an outdoor hot tub and read hot tub reviews and comments from other owners online. Researching our range of Caldera Spas will also give you a good indication of why they offer more for your money compared to other manufacturers.
Be warned though, that a great deal online may be too good to be true. It's always better to view hot tubs or spas before you buy them. If the hot tub you've decided to buy online has an inferior build quality, cheap jets and pumps or sub standard cabinet and cover insulation you'll probably end up with a spa that costs you more to run and repair than you expected. It's also important to check that the product has official CE marking. An abbreviation of the French phrase 'Conformité Européene', it means 'European Conformity' and indicates to government officials that the product can be legally placed on a country's market place and safeguards consumers best interests. A hot tub is likely to be a long term investment and should provide you and your family with years of entertainment, make sure you understand the quality of your preferred hot tubs by visiting a reputable hot tub showroom like All Swim.
Is how a hot tub made important?
There are many different manufacturing processes involved with building hot tubs and if there's a difference in price, there's likely to be a difference in the build quality. Look carefully at a hot tub retailer's website. You should be able to find plenty of information on their products, technical specifications and warranty details. Pay particular attention to the level and type of insulation used in your hot tub, our Caldera hot tubs utilise a revolutionary new loose, wool-like fibre called FiberCor® insulation - with four times the density of traditional urethane foam (used in most hot tubs) it has vastly improved insulating efficiency and fills all voids and gaps in the hot tub compartment. With a better insulated cabinet you will be spending less time heating your hot tub water, and that translates to lower running costs which, most consumers would agree, is an important consideration for purchase. It's also important to look at the quality of the rigid cover supplied with your hot tub. Most of the heat loss will occur on the surface of the water so a strong, full-foam insulated cover with a durable, marine grade vinyl will help you reduce your running costs. Also check the cover has skirts on all sides of the hot tub when it's closed as this will ensure the very best thermal seal.
What size hot tub should I choose?
Hot tubs are available in many different shapes and sizes. Your first consideration should be how much space you have in your garden and how many people are likely to be using your new hot tub. If you have a big family or like having friends around regularly for parties then you will probably need a larger hot tub with multiple seating positions. Be careful though, how much access you have at your property will also be a consideration for delivering your new hot tub. Don't worry though, All Swim offer free site surveys so if you're unsure of anything we are happy to advise.
It may sound obvious but always try and sit in a new hot tub in a dealer's showroom, hot tubs look very different from the outside than they do sat in them! Visiting your local hot tub showroom with family or friends will allow you to try them on for size. Pay particular attention to the size of the foot well and the ergonomic design of the seating positions. A hot tub may specify a large array of seating but if it comes with a small footwell you're likely to be struggling to fit everyone into your new hot tub!
What is hot tub hydrotherapy?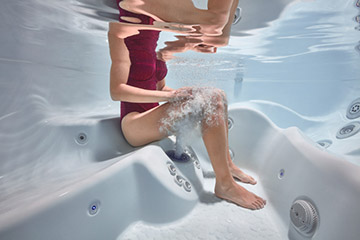 Hydrotherapy is a term used to describe the use of water for pain relief and treating illness. Water is a great way to soothe aching joints, help relax and reduce stress levels. The design, configuration and quality of hydrotherapy jets in your hot tub is probably the most important aspect of your new hot tub purchase, you'll want to ensure you're getting the best possible massage for your money. Caldera hot tubs differ to any other on the market with the introduction of their unique Hot Tub Circuit Therapy. Similar to the approach used by personal trainers, a Caldera Spas hot tub treats individual muscles with strategically placed jets and purposefully designed seats throughout the hot tub itself, moving you from station to station helps deliver a full body workout and intense all over massage.
Do I need help looking after my hot tub water?
Buying a hot tub is an important decision to make but proper care and maintenance of your water can be just as important. Well maintained spa water will ensure you and your family are safe and you will help prolong the life of your hot tub. Buying cheap hot tubs online or from large high street retailers may save you money in the short term but you could be left to make costly water balance mistakes on your own. All Swim ensures you have ongoing support from our trained staff and helpful advice on correct water balance tips if you ever need them.
Our Caldera spas have also been purposefully designed with you, the end user, in mind. The integrated spa frog system takes a lot of the work out of dosing your hot tubs water correctly and the Utopia and Paradise series feature Monarch CD Ozone systems that naturally kill bacteria helping reduce the cost of chemical sanitisers.
We will always provide an informative introduction to your new hot tub with our delivery, positioning and commissioning service. Our trained spa engineers can talk you through the set up of the hot tub and answer any questions you may have on looking after the water on the day your hot tub arrives.
How important is a good hot tub cover?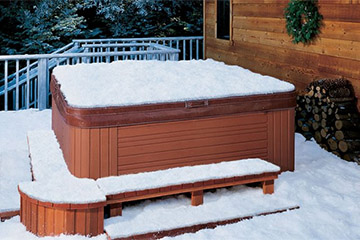 p>Most of the heat lost from the water in your hot tub will occur from the surface so a well designed, efficient hot tub cover is a great asset. Caldera hot tub covers are designed to be energy efficient, meeting the most stringent energy standards established by the California Energy Commission for portable spas. Keeping your hot tub covered when not in use will not only ensure you spend less money heating the water but it will also prevent airborne debris entering the hot tub water and adversely affecting the water quality.
Can I play music in my hot tub?
Absolutely! If music is an important aspect of your hot tub lifestyle then our Caldera Spas won't disappoint. Almost all models across the Utopia, Paradise and Vacanza ranges are available with a fantastic bluetooth enabled music system, a few clicks and your smart phone, tablet or laptop can be synchronised effortlessly with your hot tub.
Can I spread the costs of a hot tub purchase?
Yes you can. All Swim have always put the customer first and our finance packages will help you spread the payment costs and ensure you find an affordable hot tub to suit you and your family's budget. We can offer 12 and 24 months interest free credit at 0% APR or a 60 month finance option at 4.9% APR. You can even apply for finance online today!