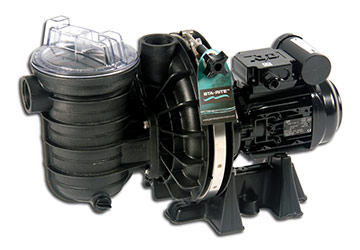 It's important to ensure you choose the right swimming pool pump when planning your pool, or when replacing an existing pump.
What does a swimming pool pump do?
UK guidelines for residential pools state that the entire volume of pool water should pass through the filtration system every 8 hours. The pool pump controls the circulation system of the pool water, a very important job as the circulation and filtration of the pool water ensures your chemicals are properly distributed, preventing the water from stagnating.
The pool pump draws the water through the skimmer and the main drain, forces it through the filter (which traps and removes debris and impurities) then returns it back to the pool via the return inlet.
How do I find the correct size pump?
The first thing to establish when choosing a pool pump is:
The total volume of water in your swimming pool(in gallons). This can be calculated using the following formula:
Calculating the volume of your pool
Square & Rectangular Pools
Length (ft) x Width (ft) x Average Depth (ft) x 6.25 = Gallons
Circular Pools
Diameter (ft) x Diameter (ft) x Depth (ft) x 4.9 = Gallons
The water flow rate (gallons per minute) of a pool pump determines how quickly the pump can move the water. We can use the below example;
Pool Volume = 24,000 gallons of water
To calculate how many gallons you need to pump each hour based on an 8 hour total turnover, divide the number of gallons by 8 (24,000 8 =

3,000)

Divide the 3,000 by the number of minutes per hour (60) then = 50 gallons per minute, in order to provide a complete turnover of the pool water in 8 hours.
For help or advice in sizing your swimming pool pump, give us a call on 02920 705059 or use our online enquiry form.
Which brand is best?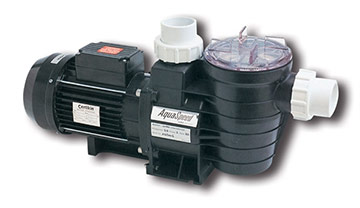 We have chosen our swimming pool pumps based on their long-standing reputations for reliability and performance, including the very popular Sta-Rite 5P2R range, Astral Victoria Plus, Hayward Super and Certikin Aquaspeed. Alternatively, have a look through our complete range of swimming pool pumps.
It's worth keeping in mind that if you are replacing an existing pool pump, opting for a like for like swap will require less work in terms of changing any pipe and fittings.
All of the swimming pool pumps we stock are self-priming pumps and popular brands from reputable manufacturers, in a range of sizes to ensure all size and shapes of pool are covered!
With over 47 years' experience in swimming pool equipment, we are ready to share our advice and talk you through any aspect of either building or maintaining a swimming pool. And if you've browsed our products and cannot find what you're looking for, or are trying to replace a swimming pool pump and are unsure what model it is, contact us on 02920 705059 or email a picture of it to us on: sales@allswimltd.com for further help.