Using a hot tub is a proven method of enhancing health and wellbeing, with benefits including better sleep, physical and mental relaxation and detoxification to name a few. But how exactly does the experience of using a hot tub help?
The Science Bit
Most people attribute a hot tub session with relaxing tense muscles and pain relief, which are certainly key benefits of using a tub, but did you know the benefits run deeper than just relaxation?
The warm water temperature reduces the gravitational pull of the body and dilates blood vessels, reducing pressure on your heart – fantastic for stress reduction and improved blood flow.
The high temperature water also encourages your body to sweat out stored impurities, so it's a great boost for detoxing your body and helping to reduce the appearance of cellulite.
Those suffering from arthritis will find the hydrotherapy massage on our Caldera Spas a great relief from their symptoms due to improved blood circulation, allowing for easier movement and pain relief.
Feel-good endorphins are naturally released by the body during a hot tub session too, which can reduce anxiety and promote feelings of calmness.
Social Interaction
With today's hectic lifestyles and our growing tendency to spend time on our gadgets, spending all important quality time with family and friends can prove a challenge.
Hot tub owners have the advantage of using their hot-tubbing time to socialise with their nearest and dearest, helping to nurture relationships and step away from screen-time. They might also notice an increase in visits from friends once the hot tub arrives!
Long Term Gains
If you've never owned a hot tub before, the initial cost might be something you are questioning – as let's face it, it's not an every-day essential purchase.
At All Swim we offer a range of hot tubs, designed to suit a wide range of budgets and needs, as we believe the benefits of hydrotherapy should be widely available to all. If you're considering the hot tub lifestyle but are a little unsure as to whether you'll use it regularly our inflatable hot tubs are a great way to get started, all the benefits of a hot tub at a fraction of the cost! Alternatively, if budget is a consideration but you're looking for a hot tub you can use all year round, consider our Fantasy Spa range, durable, portable and offering all the comforts of a more expensive spa. And lastly, if you're looking for the ultimate in comfort, style and hydrotherapy massage experience our Caldera Spas will not disappoint!
Whether you're a regular gym user or not, using a hot tub at home will help you achieve your health and fitness goals, as the massage from the jets is strong yet gentle, allowing you to work your muscles in a low impact environment.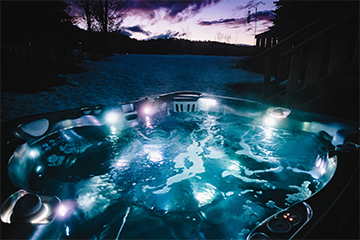 Owning your own hot tub is like having your very own personal wellbeing retreat, making a staycation an appealing alternative to pricey spa getaways.
Add Value to your Home
Seeing as we're not blessed with year-round fine weather in the UK, it's fair to say most of us don't make great use of our outdoor space during autumn and winter. The addition of a hot tub makes being outdoors more inviting – just imagine toasting the New Year in under the stars together in your hot tub!
Or maybe you'd prefer your tub to be indoors? Either way, it can add value to your property if in time you choose to move on and include the hot tub as a feature.
Not sure where to begin? For expert advice or a free, no obligation site visit contact us on 02920 705059 or email e-mail sales@allswimltd.com.