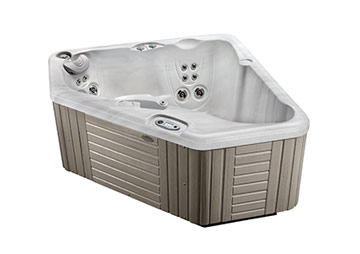 Do you love the idea of having a hot tub but wonder if there is one to fit your space? We get it, once you start looking around and visiting showrooms the sheer size of hot tubs in real life can be overwhelming, especially if you're limited on space.
Hot tubs in all shapes and sizes
At All Swim we stock a large selection of Hot Tubs ranging from 2 to 8 seaters to suit a wide variety of customer needs and spaces.
Short on space? Our most compact 2 seater hot tub is the Caldera Spas Aventine which measures 1620 x 1620 mm and is specially designed to fit snugly into a corner. And the cleverly designed 3 person Kauai features the UltraMassage Lounger which delivers a powerful, adjustable full body massage alongside 2 seats facing each other.
Or maybe you're looking for a larger-than-average hot tub – in which case the 8 person Cantabria by Caldera Spas offers the ultimate in customisable massage and comfort – complete with a state of the art design.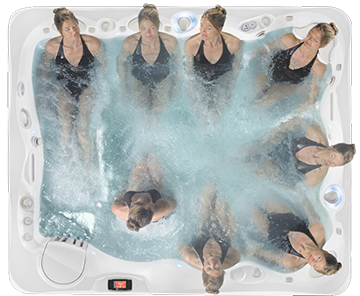 We have a range of all-seated hot tubs too that comfortably seat 7 people, ideal for large families or entertaining friends.
Find the right fit
A question we are often asked when customers visit our Cardiff showroom is "How big are the hot tubs you have?" Getting the measurement of hot tubs is naturally a factor in choosing the right one, so to make it a little easier we have compiled a chart showing the measurements and weights of every hot tub we stock along with useful information on everything you need to consider before buying a hot tub.
Did you know that we also offer a free site visit? This can be helpful for checking the access for delivery and offering advice regarding positioning and which model could best match your needs, and there is no obligation to purchase if you decide not to!
Whatever size and style of hot tub you have in mind, our aim is to help you find the perfect choice. For more information on any of our hot tubs by American manufacturers Caldera Spas, Fantasy Spas or DreamMaker, you can get in touch with us by calling 02920 705059 or via our online form.
Alternatively you can view our entire range of hot tubs online.
Caldera Spas sizes
Utopia Series
Dimensions
L x W x D
Empty
Weight kg
Filled
Weight kg*
Capacity
litres
Amps
required
Cantabria
2740 x 2310 x 970mm
595
3,560
2,325
40
Geneva
2260 x 2260 x 970mm
455
2,485
1,550
40
Niagara
2260 x 2260 x 970mm
450
2,535
1,525
40
Tahitian
2130 x 2130 x 910mm
410
2,315
1,425
40
Tahitian AMS
2130 x 2130 x 910mm
410
2,315
1,425
40
Florence
2130 x 2130 x 910mm
395
2,235
1,360
40
Provence
2130 x1980 x 890mm
395
1,715
1,005
40
Paradise Series
Dimensions
L x W x D
Empty
Weight kg
Filled
Weight kg*
Capacity
litres
Amps
required
Makena
2260 x 2260 x 910mm
465
2,445
1,500
40
Salina
2260 x 2260 x 910mm
455
2,615
1,600
40
Martinique
2260 x 1930 x 860mm
420
2,320
1,500
40
Kauai
2130 x 1650 x 750mm
335
1,450
875
16
Vacanza Series
Dimensions
L x W x D
Empty
Weight kg
Filled
Weight kg*
Capacity
litres
Amps
required
Palatino
2260 x 2260 x 980mm
415
2,420
1,525
20
Marino
2130 x 2130 x 910mm
380
2,235
1,375
16
Vanto
2130 x 2130 x 910mm
385
2,370
1,425
16
Capitolo
2080 x 2080 x 840mm
330
1,905
1,175
16
Celio
2130 x 1650 x 760mm
290
1,355
825
16
Aventine
1620 x 1620 x 740mm
225
960
575
20
* Filled weight includes the weight of the occupants assuming an average weight of 80kg each
Fantasy Spas sizes
Fantasy Spas
Dimensions
L x W x D
Empty
Weight kg
Capacity
litres
Amps
required
Drift
1730 x 1600 x 810mm
129
841
13 or 16
Embrace
1830 x 1830 x 790mm
137
776
13 or 16
Entice
2190 x 1960 x 840mm
172
890
13 or 16
Splendor
1980 (diameter) x 860mm
163
984
13 or 16
Aspire
1830 x 1190 x 710mm
113
435
13 or 16
DreamMaker Spas sizes
DreamMaker Spas
Dimensions
L x W x D
Empty
Weight kg
Capacity
litres
Amps
required
Fantasy
1980 x 1680 x 810mm
120
700
16
EZ Spa
1980 x 1730 x 810mm
129
795
16
EZ L Spa
1980 x 1730 x 810mm
147
795
16
Odyssey
2080 x 2080 x 810mm
154
1022
16
Big Ez
2080 x 2080 x 810mm
154
1022
16
Dream 600L*
2030 x 2030 x 910mm
179
1080
23
Cabana 1 pump*
2030 x 2030 x 860mm
190
1190
20
Cabana 2 pumps*
2030 x 2030 x 860mm
190
1190
25