If you've been looking for a chlorine free hot tub treatment, you may already be familiar with the name Aquafinesse and want to know more about its' benefits. The Aquafinesse ingredients consist of a complex mixture of Inorganic Salts, Coagulants and some other environmentally friendly ingredients that have the unique ability to kill bacteria and remove the slimy Biofilm that attaches to hot tub surfaces (where 99% of the total bacteria in the spa live!) and to prevent it reforming.
Why use Aquafinesse?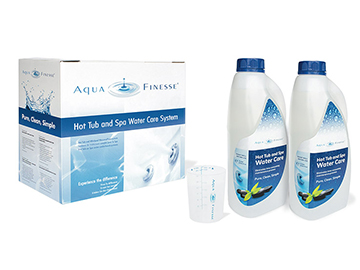 Hot tub owners who are sensitive to chlorine need a safe, gentle and effective sanitiser that won't irritate their skin. Aquafinesse is a weekly hot tub water treatment that is safe and certainly amongst the best hot tub chemicals for sensitive skin.
The unique and complex combination of Aquafinesse ingredients work to destroy and remove the stubborn bacteria that attaches itself under a layer of 'slime' (known as Biofilm) on hot tub surfaces. Biofilm actually protects the bacteria from being destroyed by the use of traditional sanitisers alone, making it near impossible to get rid of it. Aquafinesse not only removes this layer of Biofilm and the bacteria lurking beneath, it also prevents the bacteria from growing and taking hold on the surface again. The need for supplementary chlorine is dramatically reduced as a result of Aquafinesse's actions; Aquafinesse: 1 – Biofilm: 0.
Another bonus benefit of using Aquafinesse is the reduction of any calcium deposits and build-up that can be damaging to your hot tub equipment.
What's involved in the Aquafinesse treatment?
Before switching to Aquafinesse, a deep clean is needed using the Aquafinesse Spa Clean to remove all of the existing biofilm and bacteria. Dissolve the Spa Clean in warm water, remove the filter cartridge then put all jets on then add to the spa water. A traditional shock dose is done at the same time to kill of the bacteria once released by the action of the Aquafinesse Spa Clean. The tub water is then drained and re-filled with fresh water.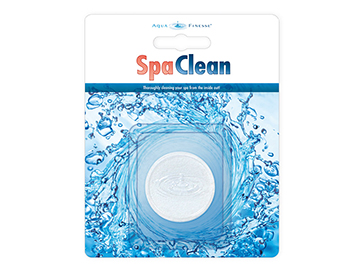 The Aquafinesse Kit contains 2 bottles of Aquafinesse liquid with a dispenser and measuring cup, for easy weekly dosing plus 18 Trichlor Chlorine Tablets and the Aquafinesse Hot Tub Water Care Kit typically lasts 3 – 6 months depending on the size of your hot tub.
Regular cleaning of the hot tub filter cartridge using Aquafinesse Filter Cleaning Tablets will also ensure your filtration is running at its' best.
The Aquafinesse Effect
Many users of Aquafinesse report seeing a marked improvement in the spa water quality with silky, clear water that also leaves skin feeling great – and less time spent maintaining the water balance due to the fuss-free liquid application!
If you like the sound of having an easy, safe and environmentally friendly hot tub water care system, try switching to Aquafinesse and see the results for yourself.