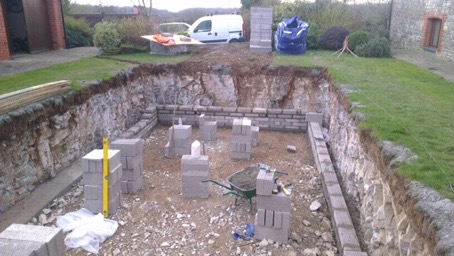 Has the glorious summer we were lucky enough to enjoy this year left you dreaming of improving your outdoor space? Believe it or not, now is the ideal time to put plans into place for having your own in-ground Swimming Pool or installed by Summer 2019.
What are the options?
The first thing to decide is whether a Concrete Tiled or Vinyl Liner DIY pool suits you best. A liner pool is the cheapest option and can be built to a variety of pool sizes. Standard DIY liner kits include a 30 Thou 0.75mm thick 'bag type' vinyl liner, with the other option being a 1.5mm thick specialist 'On Site' lining that is also available.
Liner pool installations also have a quicker start to finish time, as they don't have the same curing and drying time requirements as a Concrete pool. Liners usually have a lifespan of 10-15 years (handy tip: the better you look after the pool water chemistry, the longer your liner will last!) which gives you the chance to change the appearance at the time if you feel like a change.
Liner pools consist of a concrete strip foundation with concrete block walls built up from the floor. The pool walls are rendered and the floor screeded, to provide a completely smooth surface for the liner. The vinyl liner is what acts as the waterproof membrane of a liner pool.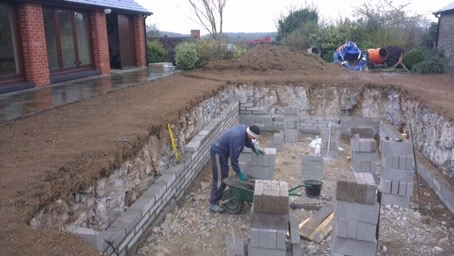 Concrete pools can be built to any size and shape and consist of a reinforced concrete slab base with starter bars coming out of the floor which sit within the cavity of the concrete block pool walls. Concrete pools require 2 coats of waterproof render over the walls and floor, so that the pool shell itself is fully watertight. The purpose of mosaic tiles is simply aesthetic, as they are not necessary as part of the waterproofing.
It's easier than you might imagine…
Planning permission is not usually required by the majority of UK local authorities for self-build pools in domestic back gardens (unless installing a pool building or an enclosure is also planned), but it is recommended you check with your local authority in advance. And certainly, the foundation work and rendering of the pool walls is typically within the capabilities of a standard builder.
Step by Step, these are the stages involved in DIY Swimming Pool construction:
Marking out the pool. Once the pool size has been decided, mark the area out to the given dimensions.
Excavation. Time to dig - A mechanical excavator is by far the quickest and easiest method of carrying out this part of the project!
Foundations & Rendering
Liner Pools: Lay a concrete strip around the perimeter of the pool, 9 x courses of concrete blocks on flat for the walls (with no wall cavity or reinforced bars required for the floor).
One coat of render is applied to the walls and screed to the floor then a concrete ring beam fitted behind the top of the pool wall which is then backfilled. The purpose of the render is to provide a completely smooth surface so it's important to ensure no stones etc are present in the render as this will be visible once the liner is fitted.
Concrete pools: A steel mesh reinforced concrete slab forms the foundation with starter bars for the walls. 2 courses of concrete blocks on flat make up the walls with a cavity for the steel reinforcement for stability.
Concrete pools are made watertight by 2 x coats of sand and cement render mixed with a special chemical that provides the waterproofing element.
Finishing. A white plastic called 'Linerlock' is fitted around the perimeter of a liner pool which holds the liner in place. There is a wide variety of liner patterns and styles to choose from which have a very realistic appearance to actual mosaic tiles. Concrete pools can either be painted with specialist pool paint or tiled with mosaic tiles.
Coping stones for the pool surround are laid before the liner or the mosaic tiles are fitted with the final stage being the installation of your pool equipment (pump, heater and filter). This equipment is housed in a Plant Room, preferably as close to the pool as possible.
Complete guides to the construction of both Liner and Concrete DIY Pools are available here:
View the All Swim guide to liner DIY pool kits
View the All Swim guide to concrete pool kits
A pool adds value to your wellbeing and your home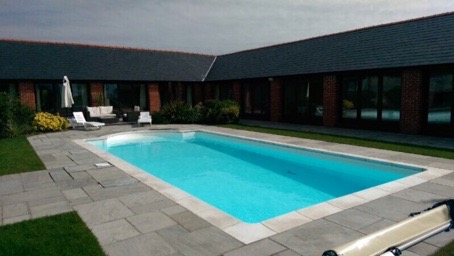 Once considered a luxury purchase of the wealthy, DIY swimming pool kits have made owning and building a pool more accessible and affordable than ever.
Adding a swimming pool to your garden is a great way of ensuring spending more quality time with your family and friends – whether it's pool parties for the kids and their friends or enjoying a 'staycation' at home. No more expensive trips to the local swimming pool when you fancy a swim- simply grab your towel, remove the pool cover and you're all set!
Why not build your own Endless pool?
Remember, a swimming pool doesn't have to take up a vast amount of space in your garden. If space is at a premium or you don't want to lose valuable playing space for the kids you can always build your own endless pool. A modest sized, inground swimming pool with an Endless Pools Fastlane will create the perfect swim in place pool without the need for as much space. Instead of having to make turns while you swim, you simply swim against the Fastlane's powerful swim current. Perfect!
If you're interested in finding out more, we offer expert advice and free, no obligation site visits across the UK. Please get in touch with us on 02920 705059 or email sales@allswimltd.com and discover how we can help your project turn into reality.