Metal stains in your swimming pool.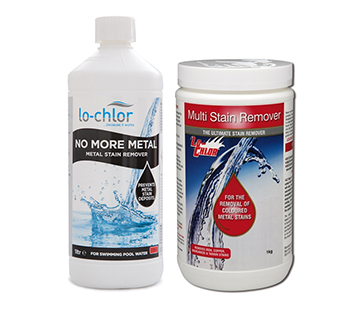 Metal stains can be an unsightly and problematic issue on your swimming pool and occurs when water has lots of metal components in it. This can be caused by metal components in the pool (like pool ladders) rusting and degrading, accidental metal contamination from around the pool (your local builder dropping a few roofing nails) or even, if your pool water is sourced from a well or spring, metal compounds already present in the water (like iron and copper). The stains typically look black, green, rusty brown, orange, or yellow and can appear on the bottom or walls of your swimming pool, along vinyl liners or fibreglass pools and on steps or other pool equipment.
Don't panic though! Removing these metal stains can be done with our specialist range of Lo-Chlor chemicals, even if a few repeated treatments are required.
How do I clear and prevent metal stains in my swimming pool?
Firstly you will need to treat your swimming pool with our Lo-Chlor Multi Stain Remover, specifically designed to remove iron, copper, manganese, tanning and cobalt (black stains present on fibreglass pools) and even rust from the floor and walls of your pool.
To begin the treatment you will need to reduce the chlorine level in your pool to 0ppm and adjust the pH level to between 7.2 and 7.6 pH. If the stain is present in a localised area of the pool you can apply the Multi Stain Remover as close to the stain as possible to help with removal, if the problem is widespread then apply the product evenly over the swimming pool surface. Always ensure your swimming pool pump is running when treating as this will help lift the stains from the pool surfaces.
Once you have treated your pool with the stain remover it is important to follow this with an application of Lo-Chlor No More Metal as this acts as a sequestering agent for any metal stains lifted from the pool surfaces that will now be trapped in solution in the pool water. Adding this to the water helps your pool filter trap any metal particles for safe removal during backwash. You should run the pump and pool filter for at least 12 hours after treatment of No More Metal, if the stains are particularly problematic run for 24 hours.
I've treated my pool but I still have some stains. What next?
After treating with Lo-Chlor Multi Stain Remover and No More Metal some metal stains can respond well to backwashing your filter thoroughly and brushing all of the surfaces affected by the metal staining. Follow this with a second treatment of Lo-Chlor No More Metal and run the pump and pool filter for at least 12 hours, longer if necessary. If the metal stains have been removed make sure you backwash the filter thoroughly. If the stains are still present you can try to rebrush the affected areas and apply another dose of No More Metal and repeat the backwashing and brushing steps.
If the metal stains are still present on the pool surfaces you will may need to start the Multi Stain Remover and No More Metal treatment again. Be patient! Multiple treatments of tough metal stains do respond well to this treatment, always ensure that you treat with the correct water balances outlined on the dosing instructions.
Need more help or advice?
If you are unsure about the suitability of using any specialist chemical treatments on your pool please don't hesitate to get in touch with us on 029 20 70 5059. Alternatively you can find more information on removing stains from your swimming pool by visiting the Lo-Chlor website.