Finding ways to minimise and reduce the running costs of your swimming pool are always welcomed – particularly with the current energy costs we are faced with. With this in mind, we have put together a selection of recommended products below, all designed to save you money, time and energy in running and maintaining your pool.
Instant Chlorine Stabiliser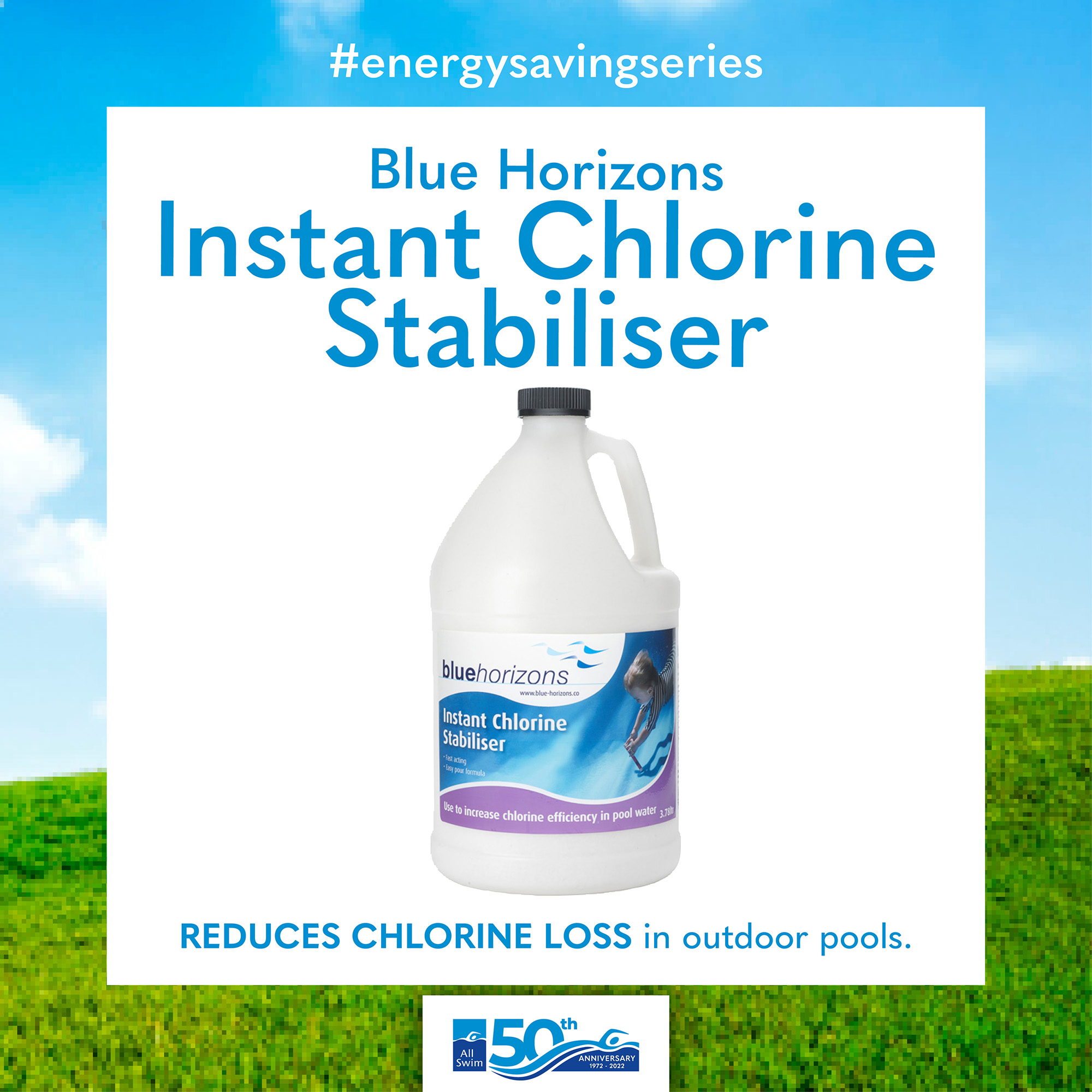 Drastically reduce chlorine loss to sunlight by adding Blue Horizons Instant Chlorine Stabiliser to your outdoor swimming pool during the season.
The unique easy-pour formula makes light work of adding stabiliser (no more time-consuming stirring to pre-dissolve like traditional granular stabilisers) and it gets to work instantly, protecting your chlorine* against UV burn off.
Add to the pool on first fill, on emptying & refilling, after backwashing or heavy rainfall for maximum benefits.
*Use with Shock Chlorine Granules, Unstabilised Chlorine and Sodium Hypochlorite (liquid chlorine).
Zodiac HPO Heat Pumps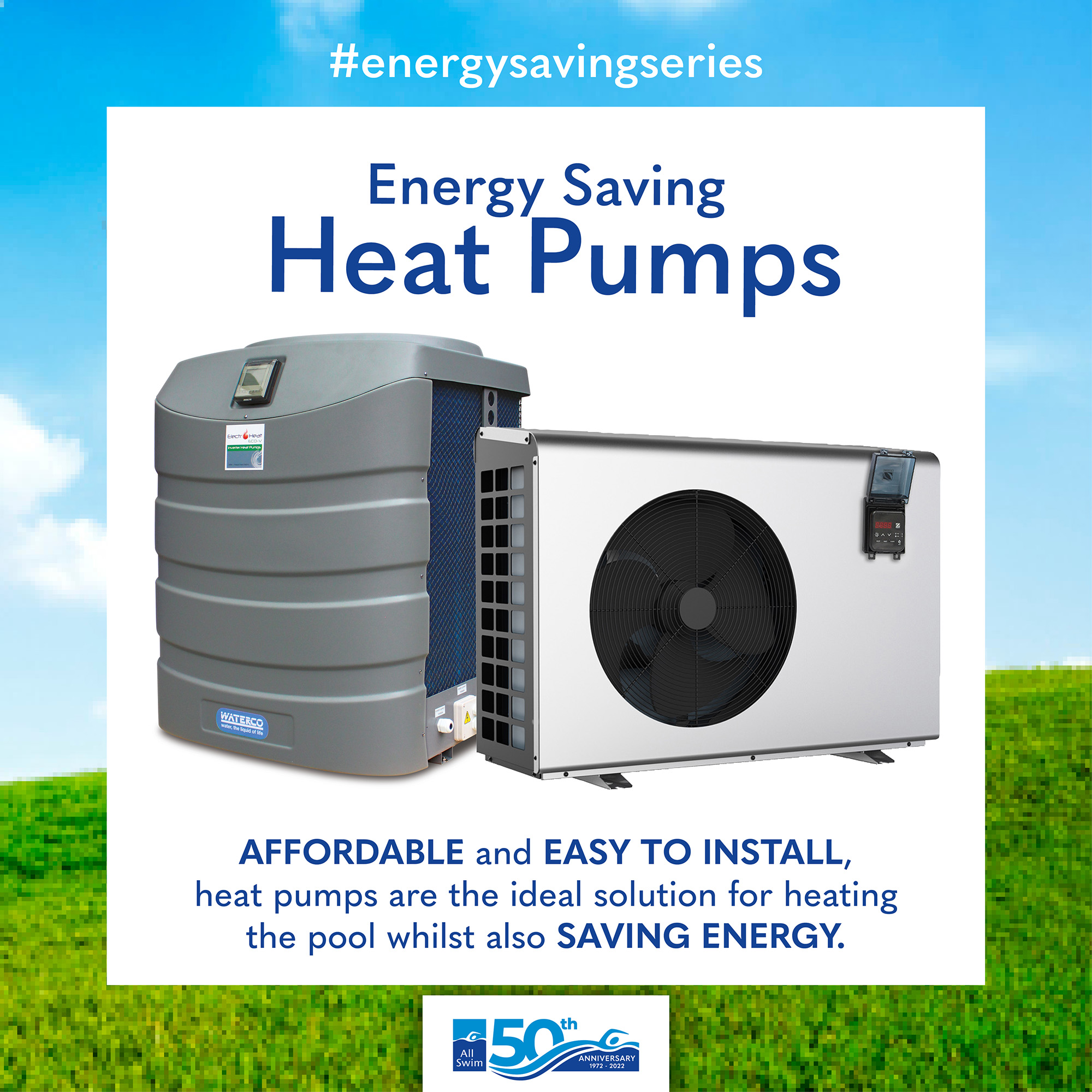 Zodiac HPO Heat Pumps feature full inverter technology, making them both silent and economical to run.

Easy to install, Zodiac HPO Heat Pumps are highly efficient, with around 80% of the energy used to heat your pool coming from the air.
Zodiac HPO Heat Pumps feature intelligent heating regulation, a Power Mode Selection and full inverter technology plus long-lasting patented titanium heat exchangers. With 6 models from 6kW to 17.7kW* the HPO Heat Pump range is suitable for most pools, up to 145m³ for either heating or cooling.
Both the compressor and fan operate on a 10 speed-range, guaranteeing an adjusted energy consumption and noise level, according to the exact need of power.
Zodiac HPO Heat Pumps feature 3 modes for ultra efficient operation:
Boost - Maximum Power for Rapid Heating
Smart - Automatic Power For Rapid Heating
Ecosilence - Reduced Power For Greater Energy Saving According To Temperature
The COP or coefficient of performance is the ratio between the power supplied to the water in the pool and the electricity consumption of the heat pump. For example, a COP of 5 means that for 1 kWh consumed on the electricity meter, the heat pump supplies 5 times more energy to the water in the pool (that's 5 kWh). So, the higher the COP, the more efficient and economical the system.
Complete with 3 year warranty.
PoolSolar / Solar Pods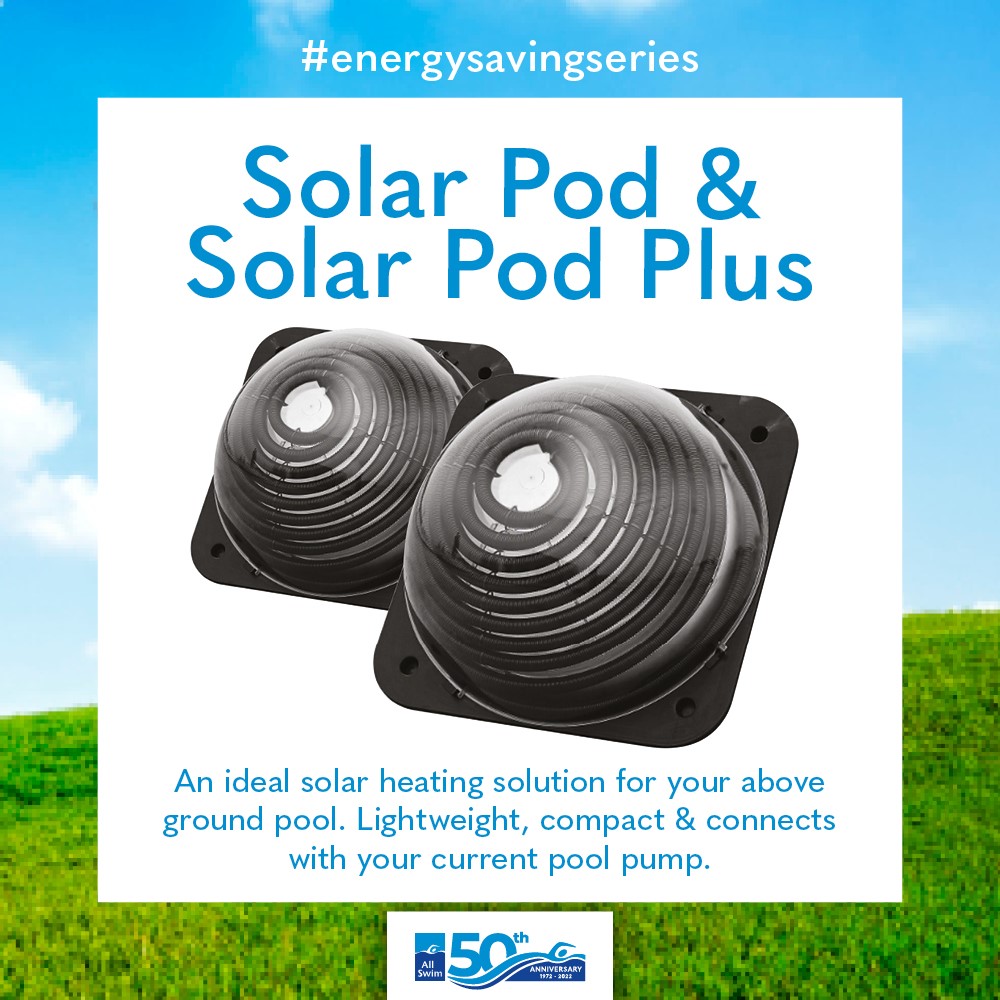 Once you've purchased your solar heating system every Kilowatt of heat produced for your swimming pool is totally free - a sound investment indeed!
PoolSolar utilises the suns' rays to heat your pool water for free. Filtered pool water passes through strips of EPDM* (Ehtyleen Propyleen-Diene_Monomer) PVC Solar Matting and is then heated via the sun's rays. The matting is pre-fitted to P.V.C manifolds that are connected to each other, then the manifolds are plumbed directly to the filtration plant.
As a guide, you need 50% of the pool surface area in solar matting. PoolSolar comes in either 4m² or 5m² size kits, which can be connected together if necessary for the pool size (providing there is sufficient space for installation). A capable DIY enthusiast should be easily able to install Poolsolar, which is supplied in a kit box complete with all the necessary components for you to install a solar collector. Please note pool plumbing is not included and, for roof installations, support angles and adhesive will also be required.
For smaller pools, the Solar Pods and Solar Pod Plus are a great choice of solar heating system for your above ground or in-ground pool. One Solar Pod kit is ideal for pools with a water volume of up to 4,500 litres and for larger pools you can simply install additional Solar Pods. The Solar Pod also has a compact size of 58cm x 58cm so it won't take up much space at all. The semi-spherical shape of Solar Pods enable them to always collect the sun's rays, without having to specify a pre-determined orientation or inclination.
Solar Pods can either be used as a top up for your existing pool heater or as the sole form of heating. Either way, Solar Pods are an economical & environmentally friendly method of heating your pool.
Geobubble
Reduce your pool water heating costs by up to 70% simply by adding a GeoBubble Solar Pool Cover!
Adding a GeoBubble cover will eliminate up to 98% of water evaporation (the main cause of heat loss from a pool) while adding a layer of insulation providing further heat retention. The GeoBubble Solar Cover range includes a variety of designs to suit specific needs – from algae prevention with the EnergyGuard Cover to superior heat retention with the new RaeGuard option.
Additional benefits of adding a GeoBubble Solar Pool Cover include:
* Eliminate water evaporation by 98% - the leading cause of heat loss from a pool.
* Gain FREE solar heating, as much as +7°C.
* Further retain the heat by providing a layer of insulation.
* A reduction in debris entering the pool (a reduction in filtration demand will result in less frequent backwashing, and also a reduction in chemical consumption).
* Reduction in the breakdown of chlorine by sunlight – further reducing chemical usage.
* Save money on energy and chemical bills.
* Reduction in energy consumption due to a lower heating demand.
For advice on which GeoBubble cover best suits your requirements check out our previous blog post https://www.allswimltd.com/how-to-reduce-the-heating-costs-of-your-pool

Heatsavr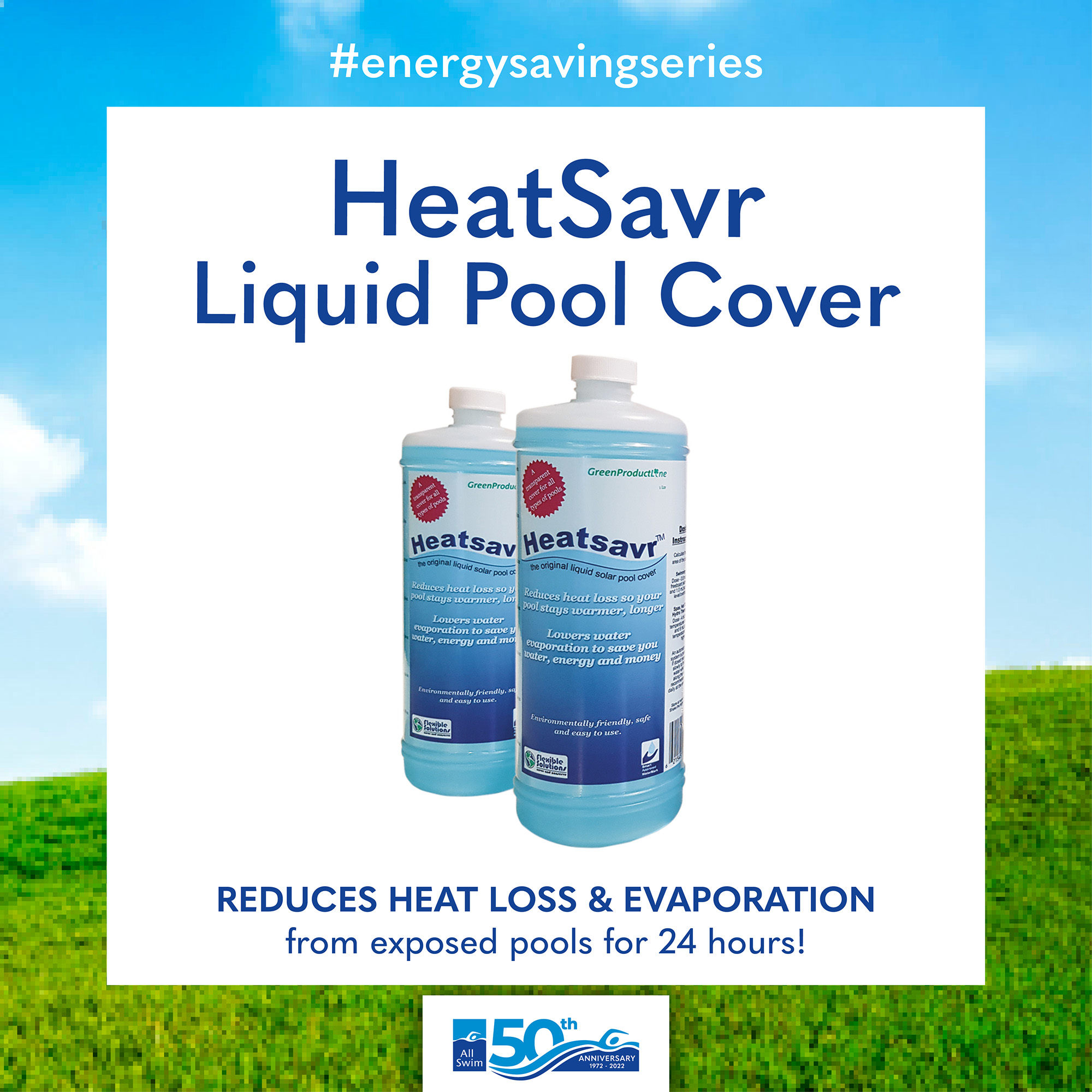 Heatsavr Liquid Pool Cover greatly reduces heat loss and evaporation from your exposed pool surface and replaces the need for conventional pool covers, making it ideal for non-standard shaped pools.
Heatsavr is a mixture of carefully chosen ingredients which are lighter than water and that float to the water surface automatically. The particles of the liquid are attracted to each other, so that they always try to form a perfect very thin layer over the entire pool surface. They are individually so small that they are 500 times smaller than the spaces in a super high quality filter.
Unlike a conventional pool cover which has to be removed from the pool for swimming, Heatsavr breaks apart whenever the water is sufficiently disturbed and reforms whenever the water becomes calm again. Heatsavr adjusts perfectly to the changing activity levels in the pool throughout the day. Heatsavr is a variable and flexible cover that automatically works whenever and wherever the pool surface is calm, making it the perfect solution for pools where a traditional cover would be difficult or impossible to install.
Glass Pearls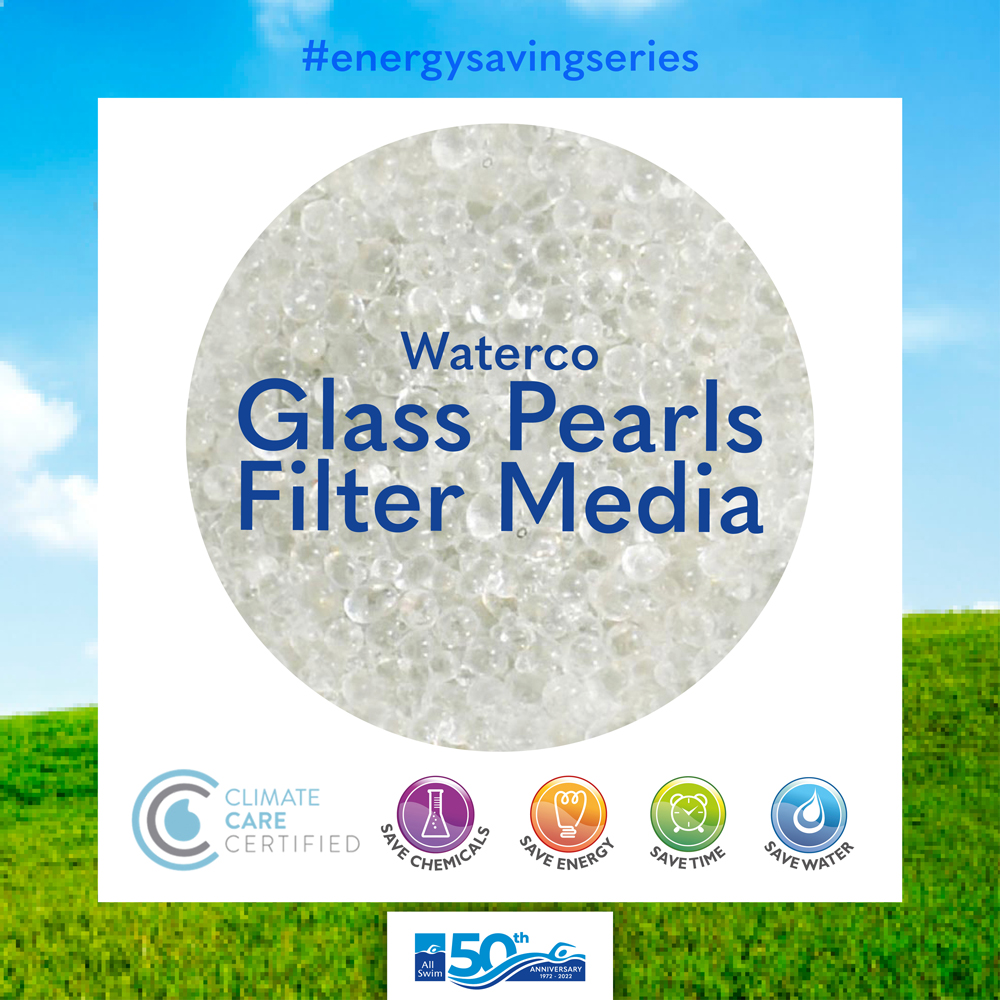 Switching to Waterco Glass Pearls filter media will help you save water and time - a win win in our book!
A new generation of filter media, Waterco Glass Pearls has a unique combination of features that reduces the need to backwash your pool (using 20% less water than filter sand). The spherical shape and small yet effective size of Waterco Glass Pearls allow a fast set up and a more in depth filtration than other types of filter media, extending the period of time between backwashing - saving you precious time in the process.
In addition to saving water and time, Waterco Glass Pearls are a Climate Care Certified Product - the benchmark in sustainability for pools and spas (an initiative of the Swimming Pool & Spa Association of Australia Ltd).
So, if you are a swimming pool owner looking to save water, energy and your time this season, it's definitely worth consider switching to Waterco Glass Pearls.
Certikin iSaver Pool Pump Inverter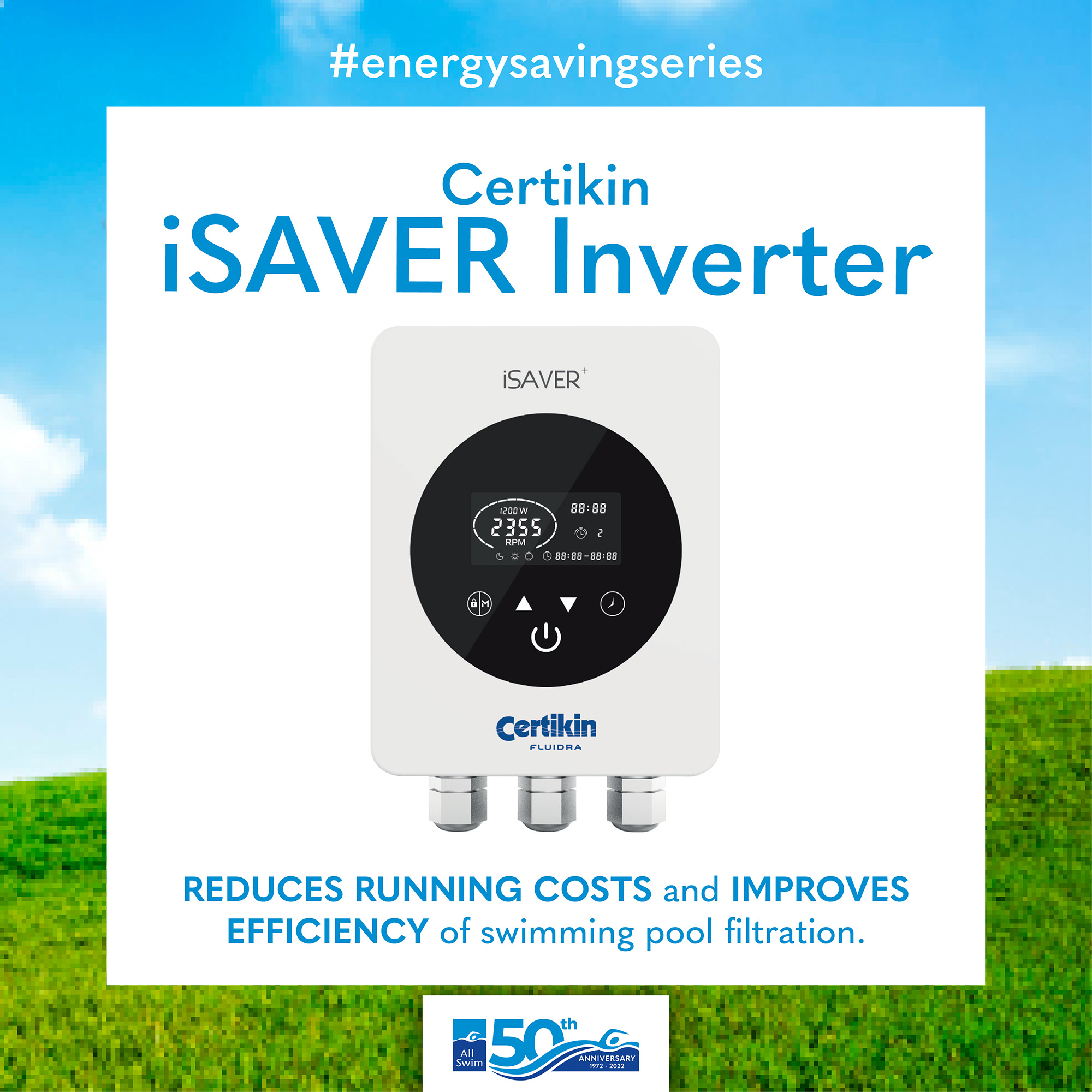 The Certikin iSaver Pool Pump Inverter features a timer which allows up to 4 different speed programmes to be set each day; transforming a standard single phase pump into a variable speed pump!
The Certikin iSaver Pool Pump Inverter can save you up to 80% on pool pump running costs (on low speed)!
Features:
Easy Plug & Play Installation
Timer: set up to 4 programmes with different running speeds daily
The first Touch Screen Display model on the market
Compatible with nearly all single phase pool pumps
Reduce the noise of the pump by up to 25%
Multicyclone
The Waterco MultiCyclone is a pre-filtration device that can help you save up to 7,000 litres of water a year in an average pool and reduce filter maintenance.
An average sand filter requires approximately 4,000 to 8,000 litres of water a year to maintain it and also needs backwashing and rinsing regularly. If you backwash every month, your pool filter requires approximately 8,400 litres of water a year, which is drastically reduced with the inclusion of a MultiCyclone.
The addition of a MultiCyclone:
Cuts wasteful backwashing based on the principals of centrifugal water filtration, the MultiCyclone collects 80% of the dirt that clogs your filter before it gets there.
The MultiCyclone drastically reduces filter backwashing and filter cartridge maintenance.
Reduce backwash frequency.
Reduce filter cartridge maintenance.
If only 20% of the swimming pool dirt load reaches the filter, backwash frequency is reduced by 1/5th.
The MultiCyclone is ideal as a pre-filter to extend the life of your existing filter.
Backwash Water Saver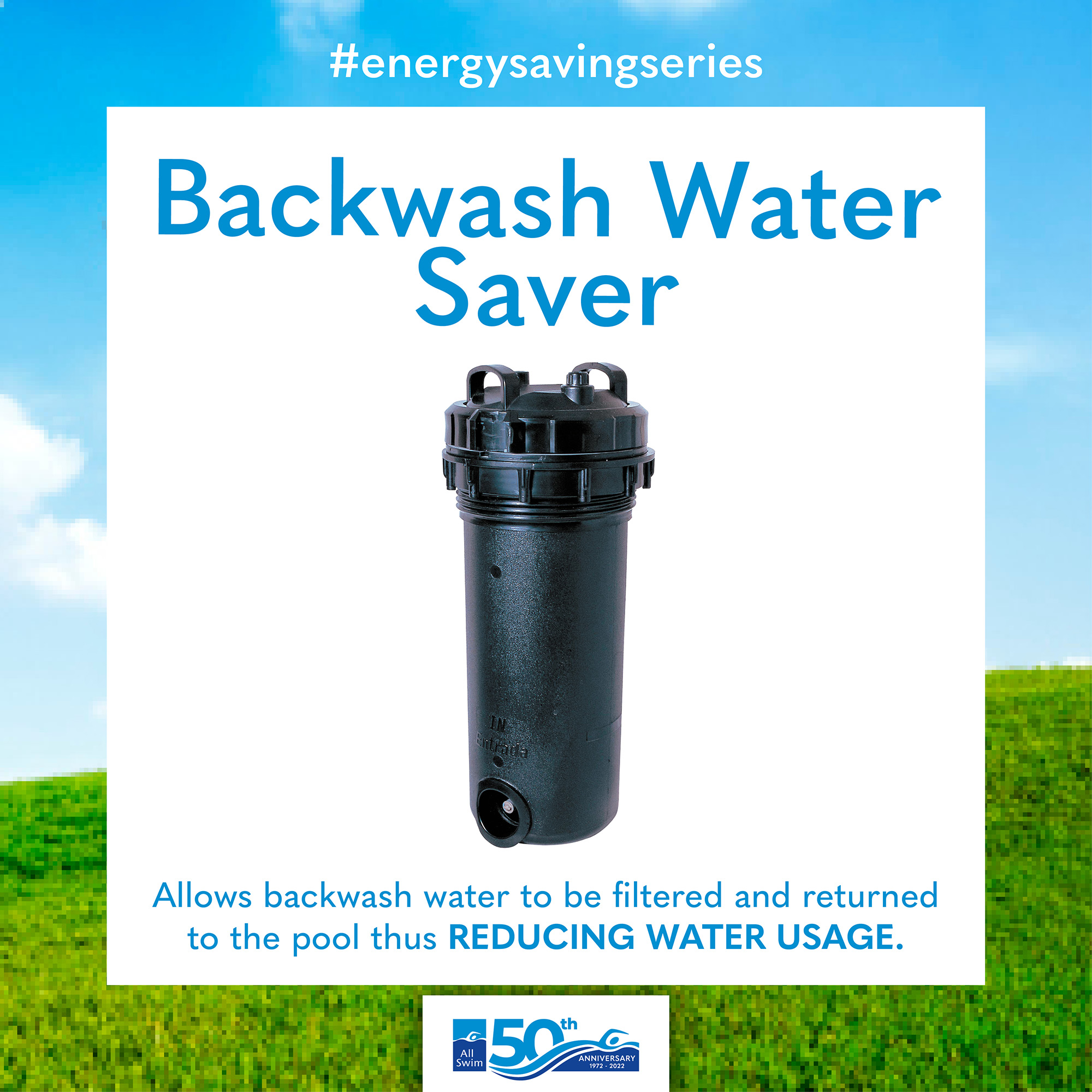 The Backwash Water Saver catches the dirt inside the sand filter in a 50ft² filter cartridge, which allows the water that would normally be wasted when backwashing to be redirected back into the pool - saving water in the process.
Pre-fitted with 2 x 1.5" hose tails and supplied with a 3m length of flexible hose which connects to your sand filter using the jubilee clips also supplied. The water is then directed back into the pool via your back wash hose.
The filter cartridge should be cleaned between backwashes with a filter cartridge cleaning product and the filter element replaced every 6 - 8 cycles.
Please Note: The Backwash Water Saver is recommended for use as a temporary measure during water shortages or restricted supply times - standard backwashing should be resumed once conditions allow (to introduce fresh water back into the pool).
As always, if you want to discuss any aspect of maintaining your swimming pool feel free to contact us on 02920 705059.