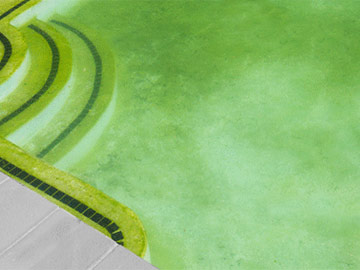 One of the most common issues pool owners are facing at the moment is the pool turning green and having to then spend time and money rectifying the problem. But what causes the problem and how can you prevent it?
Algae loves the sun!
The green colour in your swimming pool is caused by the presence of algae in the water. When conditions are right, algae blooms and the pool turns green; having out of balance water, warm temperatures, sunlight and the presence of phosphates all contribute to algae growth but so does the lack of good circulation, filtration and sanitisation.
If it's all starting to sound like a lot of hard work, fear not, it is possible to keep your pool clear and free of algae with a little commitment to the cause. It is really important to regularly monitor and test the chlorine level and to then dose the water with the appropriate amount based on the volume of water your pool holds. Another essential step during this weather is to ensure your pump is turned on and the water is circulating – not turning the pump on will stop the chemicals from circulating and allow the algae to thrive! Chlorine does a great job of sanitising the water, keeping it free from bacteria and harmful organisms. But when the weather is hot and sunny and the pool is being used a lot, the demand for chlorine increases, so you will find that your usual dose is not as effective and your water balance is suffering.
How do I clear my green pool?
There is a handy guide to looking after your pool available on our website as well as step by step instructions for How To Clear A Green Pool.
By maintaining your chlorine at a level of 1 – 1.5mg or ppm (parts per million) consistently you will dramatically reduce the chance of algae taking hold, and save yourself the headache of battling it!
In addition to chlorine you can also utilise other chemicals to make algae control a breeze!
Lo-Chlor Algae Knock-Out is highly recommended for stubborn algae blooms it is a heavy duty, copper free, dual action formulation, guaranteed to kill even the most stubborn forms of algae!
Phosphates are a major food source for algae, high levels of which often result in a recurrence of stubborn algae in swimming pools. By removing the phosphates from the water, the algae cannot survive. Lo-Chlor Starver X is an effective superior strength liquid phosphate remover for use in swimming pools.
Kleen Pool Longlife Algicide will maintain your pool free of most algae for periods up to 6 months. One simple application will free you from the problems caused by algae blooms; discolouration and hazes which can affect the appearance of your pool. When your pool is not being used for swimming, such as holiday times and throughout winter, Kleen Pool will keep your pool clear and free of most algae without the use of other pool chemicals.
Further advice on water treatment and calculating the volume of your pool can all be found in our Water Treatment Guide as well.